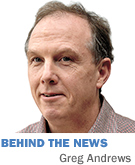 Asked more than two decades ago what would happen if Eli Lilly and Co. were acquired, then-Mayor Stephen Goldsmith famously quipped, "God would not let that happen."
The comment underscores the outsized role the pharmaceutical company plays in central Indiana—both in driving the economy and in enhancing quality of life. The region's economy is diverse, but Lilly is such a behemoth that its ups and downs reverberate statewide.
"Lilly is sort of the keystone of central Indiana business," said Morton Marcus, a retired economist from the Indiana Business Research Center. "I think Lilly is very important to the way people feel about how well the community is doing."
Fortunately, these days, the company is doing well—and its stock especially so. Shares have risen 150 percent over the last five years, as investor optimism has grown that Lilly has more than enough R&D firepower to offset a devastating barrage of patent expirations.
The news about late-stage drug trials has been especially good lately, which has sent the shares into an extended rally. Over the last 12 months, Lilly stock has surged 33 percent, a span when the S&P 500 climbed just 5 percent.
Lilly's turnaround has been a godsend in myriad ways, including: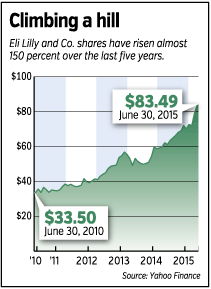 • Creating wealth. The company's shares are widely held across the region, especially by current and former employees. Many stubbornly held firm after the stock tumbled from its all-time high of $108 in 2000. The stock, which slid as low as $29, now is back up to nearly $85.
Consider the impact just on CEO John Lechleiter. From the start of 2012 to the end of 2013, 320,000 stock options he held expired with no value, because the exercise price far exceeded the market price for the shares. Now, Lechleiter is sitting on stock options worth $3.8 million plus equity grants from the company worth more than $40 million, according to Lilly's latest proxy statement.
• Boosting philanthropy. Lilly shares are widely held in the charitable-giving world, most notably by Lilly Endowment Inc. The endowment closed 2014 with $10.1 billion in assets, nearly double where it ended 2010. As a result, the private foundation is set to make grant awards of at least $391 million this year, up from the $206 million it gave away in 2010.
• Stabilizing employment. After cutting jobs during its lean years, Lilly now employs 11,265 in central Indiana. These aren't just any jobs. Lilly workers in the state receive, on average, salary and benefits totaling $160,395, according to an economic impact report the company prepared using 2013 data. That's more than triple the median income for entire households in the Indianapolis area.
• Enhancing community involvement. Companies that are prospering are in a stronger position to play leadership roles in civic affairs. It's a responsibility Lilly has embraced over many decades, from helping to spur development of Circle Centre mall in the 1990s to facilitating construction of the mid-rise, mixed-use CityWay project just north of its headquarters a few years ago.
Given the wrenching years Lilly has faced, it might seem too much to ask. But the most-enticing scenario would be for the company to not just regain its footing but shift into high-growth mode. Some analysts see that happening, especially if data scheduled for release this month buoys hopes for its experimental Alzheimer's drug.
Among the more optimistic analysts is Marc Goodman of UBS, who forecasts Lilly's revenue will swell from the $19.6 billion of last year to $26.1 billion in 2019.
"Sustained growth may also signal new hiring," Ball State University economist Michael Hicks said in an email. "That is what would be of most importance to the Indianapolis-area economy."•
Please enable JavaScript to view this content.