There's something primal about neighborhood frozen-treat spots—something as richly American as fireworks and hot dogs.

I've been known to stop for an occasional Ritter's or even Dairy Queen, but I wish every ZIP code had, between any home and the local Little League field, at least one place on the order of Greenwood's Mrs. Curl or Bloomington's The Chocolate Moose. All the better if each had a miniature golf course attached.

And so it was with pleasure that I checked in at Cafe Nonna (629 Virginia Ave., 945-5914).

No, there's no mini-golf. And this isn't your standard soft-serve shack—although you can get soft-serve yogurt there. Instead, the focus here is on housemade gelato, the less-butterfat Italian cousin to ice cream. As such, it fits nicely in the Holy Rosary area best known to outsiders for its annual Italian Street Festival.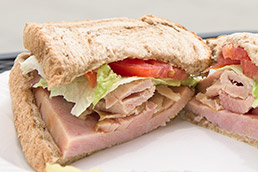 Cafe Nonna offers a small list of sandwiches, including hand-carved ham. (IBJ photo/Eric Learned)
Decorated but not overloaded with sepia photos of families and with seating both inside and along the Cultural Trail outside, Cafe Nonna embraces family and history without overdoing it. Blending nicely into the streetscape, it feels like it's been there for years instead of only weeks. My only complaint: Call me old-fashioned, but the location and cuisine cry out for an ordering window connecting the cafe to the outside world. Wouldn't you be more likely to sample if you saw a line formed and a list of flavors on the wall?

Those choices are many. First question: Frozen Yogurt, Gelato or the fruiter-than-sorbet Sorbetto? I'd suggest first-timers go the Gelato route ($3.50, $4.50, $5.50, depending on the number of scoops). Here, expected flavors such as vanilla, mint chocolate chip and raspberry get accented with the likes of mascarpone, amaretto and tiramisu. Failure here is not an option: Everything I tried was refreshing. … OK, so my preference is the salted caramel, but I'm not going to be pushy. Samples are available if you have doubts.

Cafe Nonna is the kind of place you are likely to stop at after eating lunch or dinner at one of the other Virginia Avenue restaurants that have sprouted up in recent years, but this isn't just a dessert stop. A Ham Sandwich ($5.50) doesn't pretend to be anything but what it says, but I witnessed the pork being hand-carved after I ordered, which is a plus. The Sausage Sandwich ($5.50) with onions and peppers was difficult to manage in its bun, so a fork is recommended. As for Meatballs on a Stick ($5), I'm not sure why anyone except the bread-avoiders would opt for that instead of a meatball sandwich—which, oddly, isn't to be found on the menu despite all required ingredients being available.•