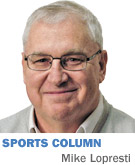 Little kids are playing basketball on the main floor. A hammering noise with off-season, fix-something intent echoes from somewhere. It is summer in Hinkle Fieldhouse.            
And in the head coach's office is a man whose orbit has so radically shifted in one year. How's this summer going for Chris Holtmann, Butler University's impromptu coach?
"It's hard to overestimate how significant the difference is," he says of last July and this July. "I think your perspective changes when you're sitting in this chair. You're not overwhelmed, but it's sobering at times because you know you're responsible for the health of the program."
"It's different in every way."
That would include dinner out with the family, when people drop by the table now to bestow best wishes or request a handshake. "There are moments my wife and I look at each other and think, 'Wow.'"
That would include when buddies came to town for a visit. "They made sure I paid for golf."
That would include when he looks in the mirror. "More gray now."
A year ago, Holtmann was a Butler assistant, with no clue what was about to happen. Six months ago, he was an interim coach, trying to tape together a season on the fly after Brandon Miller's sudden absence. Now he's the man in charge, fully and without question, coming off a season where his Bulldogs proved they truly belonged in the Big East—and he belonged with them.
Ask him the differences in summer now, and he mentions several.
"I'm a little more stressed. That comes with the territory. I'm busier in a lot of ways. I'm also more humbled than I've ever been. You just recognize the great opportunity and great privilege this is."
This time last summer, he could never have imagined he'd be handed the Butler Way only weeks before the first game, and would have to prepare for a season in the hurry-it-up manner that microwaves a TV dinner. But he did just fine. The Bulldogs went 23-11, winning an NCAA Tournament game.
"When it happened, you felt rushed in some ways," he says. "Fortunately, we had a veteran group. I believe so strongly that our 4-14 season in the Big East [in 2014] really helped us in a lot of ways. I think a lot of humility came with that, a recognition for everybody associated with our program that this is hard, what we're doing and in the league we're doing it. If we think we can just roll into a new league and be successful just because we're Butler, we're delusional.
"Just the wisdom that comes from struggling like we did that one year helped us. That is still relatively fresh in our minds. We're just one year removed from that."
His top three scorers return, with Roosevelt Jones and Kellen Dunham still ballyhooed Bulldogs. Some new faces should help. Now he must deal with the expectations as the head coach. He recruits as the head coach. He runs a summer camp at Hinkle with a thousand kids as head coach (free concessions if you wear a Butler jersey!). He meets the masses as the head coach, speaking at this Kiwanis lunch or that Optimist dinner. He will speak at four state coaching clinics later this summer.
"You can always be doing something in this job," he says, confessing to being driven daily by the awful thought that if he isn't working, someone at Xavier or Villanova is, and then what will happen when they play? Besides, Holtmann sees himself as the caretaker of the program, not the owner.
"If we're going to do this well for a number of years, we've got to look at this and say, 'This has been entrusted to us, and we have to be good stewards.' You feel a huge sense of responsibility. How can you not, with what's been done here?"
But every coach needs balance, and Butler Athletic Director Barry Collier has been constantly reminding his basketball coach of the need to get away.
"I've got to do a better job at that," Holtmann says.
He'll still spend much of the summer going through the films of all of last season's games. He did that at Gardner-Webb University, too, though he gave his assistants a break, making them review only the league games.
"I kind of felt guilty, especially when it's 85 degrees and sunny out, and we're watching games from November. All the guys had their golf clubs. They brought them in the morning, just to give me a hint."
For Holtmann, golf maybe once every three weeks is his optimum. More time than that with the white ball would be too much time away from the orange ball. Plus, he sure seems to be getting a lot of speaking requests.
"Usually, they throw out the line—which is great for them to use because it guilts me, if I don't quite have time to do it—'Well you know, Brad did this.'"
The ghost of Brad Stevens is part of Chris Holtmann's summer, too. That means he truly is now the Butler coach.•
__________
Lopresti is a lifelong resident of Richmond and a graduate of Ball State University. He was a columnist for USA Today and Gannett newspapers for 31 years; he covered 34 Final Fours, 30 Super Bowls, 32 World Series and 16 Olympics. His column appears weekly. He can be reached at mlopresti@ibj.com.
Please enable JavaScript to view this content.