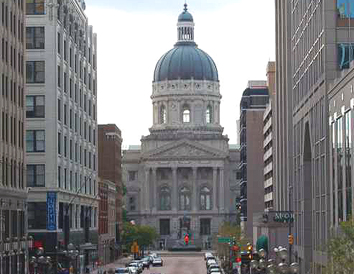 Indiana's economic development agency says it has ended a contract with a New York public relations agency it hired to assess the damage to the state's reputation after a religious objections law sparked boycott calls.
The move to cancel the agreement with Porter Novelli comes three months after the contract began. Porter Novelli will be paid $365,000 for its work, according to the state.
Indiana Economic Development Corp. executive vice president Chris Cotterill said Thursday in a prepared release that "in light of the state's strong economic news" and its focus on cost management, the group would cancel the contract with Porter Novelli.
"Indiana continues to make headlines as a state that is attracting and adding private sector jobs at record-setting levels and is being recognized by national publications for its business-friendly climate," Cotterill said. "… We are appreciative of Porter Novelli's initial guidance that will enable us to redouble our efforts to attract business and tourism to Indiana through current initiatives with local agency support as needed."
The IEDC had hired Porter Novelli in April to help develop a plan to rebuild the state's image after widespread criticism over the religious objections law. Critics contended the law would allow religious beliefs as a legal defense for discrimination against lesbians, gays, bi-sexuals and transgender residents.
Businesses statewide pushed lawmakers to retract the law or at least clarify its intent, and groups that had scheduled conventions in the state threatened to cancel.
The firestorm quieted after lawmakers revised its language, but convention and tourism officials across the state say they are still being questioned about that law and that its true effects might not be known for years.
The IEDC said Thursday that it would pay Porter Novelli $365,000 for the work it performed.
"We engaged in meaningful dialogue and received strategic counsel focused on identifying the state's leading assets, key audiences and strategies to integrate these variables into future marketing efforts," an IEDC spokeswoman wrote to IBJ in an email. "Porter Novelli's initial guidance enables us to redouble our marketing efforts to attract business and tourism to Indiana through current initiatives as we continue to seek opportunities to share Indiana's story."
The state's agreement with the firm called for Indiana to pay up to $750,000 for the first phase of its so-called "reputation enhancement" initiative. The first phase would run from April 1 to Sept. 30, during which time Porter Novelli would assess the perceptions and expectations of the state and to develop a campaign and strategic approach, including the development and design of a marketing campaign.
Porter Novelli did not produce a marketing campaign prior to the early conclusion of the contract, according to the spokeswoman.
On June 24, CNBC named Indiana the 13th best state for doing business, and ranked the state No. 1 in terms of cost of doing business.
Please enable JavaScript to view this content.