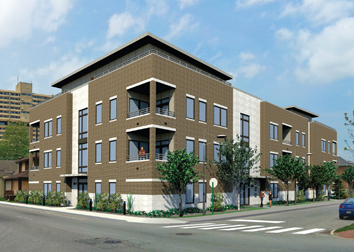 Construction is under way on the first phase of a downtown residential project that will bring more upscale homes and condominiums to the historic Lockerbie Square neighborhood.
Chase Development LLC plans to build two houses, priced above $1 million, and 12 condos ranging from nearly $400,000 to $1.2 million as part of its 500 Park Residences project at the northwest corner of East Michigan Street and Park Avenue.
The first of the 4,000-square-foot, four-level homes is sold and is being built on the west side of Park Avenue. Another house will be constructed on the adjacent lot to the south and just to the north of where the condominiums will be built.
The condos, ranging from 1,250 square feet to 3,000 square feet, should be finished early next year. They're already receiving strong interest from potential buyers, who have scooped up six of the 12 units, said Daniel Jacobs, owner of Chase Development.
"I would expect the remaining units to sell very quickly," he said. "Activity is really high; the only marketing we have is a website and a banner."
Jacobs is one of just a handful of developers building or planning to build homes or condos downtown. Since the econonomic downturn, apartment projects have been far more prevalent, although the for-sale market is enjoying a slight resurgence.
Local developer Milhaus Development LLC is building 84 condos in five structures as part of its Park 10 project. To make way for the development, Milhaus bought and demolished the Park Avenue Church of Christ on the southern parcel fronting 10th Street. The firm also is building on the north side fronting 11th Street , a site that formerly housed The Frank E. Irish Co., a large mechanical-contracting firm that closed in 2008.
Milhaus also is building six townhomes at the northeast corner of 13th Street and Central Avenue.
Meanwhile, 500 Park features seven flats and five two-story rooftop townhomes, in addition to a heated ground-level parking garage.
The building will mostly feature a brick exterior, offset by wood casement windows with aluminum cladding. Home-automation systems will allow residents to program door locks and security, in addition to climate and lighting controls.
To make way for the condos, Jacobs bought and demolished the building at 534 E. Michigan St. The concrete block structure housed a mechanical contractor's business and was built in three phases around an 1860s-era, two-story home. Only the second floor of the historic house remained, however.
The architect for 500 Park is locally based Rottmann Collier Architects.
Plans for 500 Park call for a second phase, to the north, at the southwest corner of Park and North Street. Jacobs is unsure whether it would include condos or apartments.
Construction of 500 Park Residences will create more density along the three-block stretch of North Street and help link Massachusetts and College avenues, where Milhaus built the Circa apartments and where St. Joseph Brewery & Public House opened in May.
Across North Street, on the east side of Park Avenue, Jacobs built $3 million homes on a surface lot, all of which are occupied.
 
Please enable JavaScript to view this content.