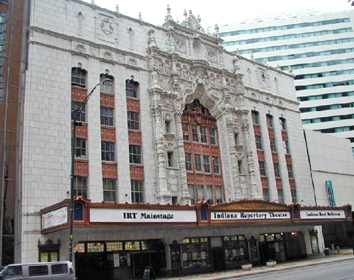 The city's attempt to find a partner to manage and redevelop downtown's historic Indiana Theatre building attracted just one proposal.
Built in 1927, the city-owned landmark at 140 W. Washington St. has housed the Indiana Roof Ballroom since its opening and has served as the Indiana Repertory Theatre's home for 35 years.
But it operates at a loss and is sorely in need of repairs, prompting the city in February to issue a request for information seeking "creative solutions" that allow for its continued operation.
The lone response came from Ballroom Holdings LLC, which already manages the ballroom and proposed handling the whole building. It's an affiliate of Jack Bayt's Crystal Catering, which operates The Willows event venue in Broad Ripple and has an ownership stake in The Crane Bay near Lucas Oil Stadium.
Bayt's proposal fulfilled only half of the city's request. The city also had asked private entities to present ideas for ownership and redevelopment of the property.
"A management arrangement through BH or one of its affiliates would bring to bear the entrepreneurial experience of BH and its principals in finding operational savings and efficiencies while maintaining the high standards necessary for a building of this stature," Bayt said in a letter to the city's Department of Metropolitan Development.
DMD Director Adam Thies is working with Bayt to determine if the city can partner with Ballroom Holdings. He said he doesn't know why the building didn't attract more interest from developers.
The city became the building's sole owner in May 2014. An inactive organization called the Downtown Merchants Association had owned the building with the city.
The six-story structure was added to the U.S. National Register of Historic Places in 1979.•
Please enable JavaScript to view this content.