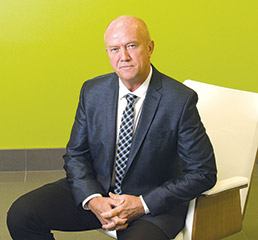 3-year growth: 240 percent
2014 revenue: $77.0 million
Across the border:
Skjodt-Barrett started 30 years ago in Toronto, Canada, making pastry fillings and jams for the food-service industry, and as recently as 2010 had only 50 employees. Then it started to co-manufacture products such as organic baby food and fruit snacks in spouted, resealable packages. Business took off. The company now has more than 500 employees, including 270 in Lebanon, where it opened operations in 2011.
Big idea:
Flexible spouted pouches had been popular in Europe for 20 years, said President and CEO Dan Skjodt, but the American public hadn't adapted. "I saw the success of this packaging format in Europe and felt that there was an opportunity for that to be brought to North America."
What brought him here:
Skjodt said Indiana was progressive in soliciting his company, Lebanon offered incentives, and real estate values were good. Plus, his brothers Charlie and Paul, who came here in the 1980s to play minor-league hockey for the former Indianapolis Checkers, both live here.
Managing growth:
Keeping up with demand for the packaging has been a challenge. Skjodt-Barrett manufactures products under the brand name of its customers and at times has had to limit what it could make. "That was always challenging—you have very large customers and you have to tell them, no, they can't have everything they want," Skjodt said. When demand outweighed production capabilities, the company allocated production among its customers and ordered new equipment. "We've been installing equipment on a regular basis over the last two years to try to keep up with the demand."
Outlook:
Skjodt expects his company to gross $140 million this year—nearly double fiscal year 2014 revenue. With lots of demand but more competition, he said the company has to continually find new products to put into its packaging. Meals Ready to Eat for the military, meal replacements, and health and wellness products are next. •
Check out more of IBJ's ranking of Indy's fastest-growing companies.
Please enable JavaScript to view this content.