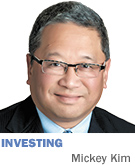 Greece has been on the brink of default twice in the past five years, so a third visit to the edge of the cliff shouldn't be a surprise. While a default leading to an exit from the Eurozone would lead to tragic circumstances for the citizens of Greece, Greece accounts for only about 2 percent of the Eurozone economy. Additionally, the contagion risk to the global financial system of a Greek default is materially lower than it was five years ago.
Sam Stovall, chief equity strategist for S&P Capital IQ, wrote a terrific report in September 2013, "Shocks & Stocks." He noted the U.S. stock market has encountered a variety of unanticipated shocks over the past 70 years, since World War II, including wars/near wars, assassinations/attempts, terrorist attacks and financial collapses.
He said the 14 initial shocks he studied sent the S&P 500 down a median of 2.4 percent during the subsequent trading day, took six days to reach bottom, and fully recovered in the next 14 days. Some events obviously took much longer to play out than the medians would suggest. However, he noted those extreme situations generally occurred during long-term bear markets and did not precipitate the initial decline.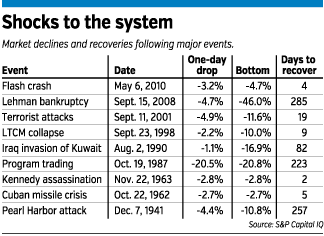 According to Stovall, the lesson is, "Should history repeat itself, and there is no guarantee it will, unanticipated events that occur within bull markets that throw markets for a loop are typically assessed for their economic impact in short order, allowing opportunistic traders to step in and quickly push share prices back to break-even and beyond."
In other words, "Sell the scare, buy the bombs."
At the time of the report, investors were gripped with fear about the negative fallout from the expected retribution against Syria for using chemical weapons against its own people. Stovall said, "If so, it would probably be one of the most anticipated of unanticipated events in modern history." Sound familiar?•
__________
Kim is the chief operating officer and chief compliance officer for Kirr Marbach & Co. LLC, an investment adviser based in Columbus, Indiana. He can be reached at (812) 376-9444 or mickey@kirrmar.com.
 
Please enable JavaScript to view this content.