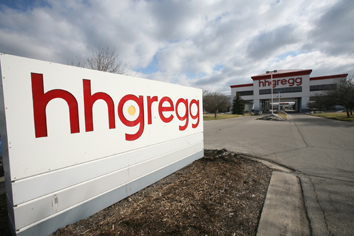 A former HHGregg Inc. manager has won his lawsuit charging that the company failed to pay incentive bonuses after reaching certain financial goals, potentially leading to millions of dollars in damages.
Marion Superior Court Judge Robert R. Altice Jr. issued his ruling Friday and set a Nov. 12 hearing to determine damages. The judge granted the suit class-action status in 2014.
Former accounting manager Dwain Underwood filed his complaint in March 2013, claiming that the Indianapolis-based appliance and electronics retailer failed to factor a $40 million payout into the calculation used to determine whether employees were entitled to incentive bonuses.
The company collected the $40 million life insurance payout after Executive Chairman Jerry Throgmartin died in 2012.
Underwood claimed HHGregg should have paid him a $25,000 bonus based on the company's fiscal 2012 earnings before interest, taxes, depreciation and amortization, or EBITA, of $144.4 million.
Instead, HHGregg based bonuses on "adjusted EBITA," which excluded the life insurance payout.
"Nowhere in the statement does HHGregg reserve the right to only issue a bonus in its discretion; rather, HHGregg is offering a performance-based bonus, which is to be paid if certain financial standards are met in a fiscal year," Altice wrote in his decision.
Eric Pavlack, attorney for the approximately 50 current and former HHGregg employees in the class action, said the judge's decision supported their argument that they should have been paid the bonuses.
"We're extremely pleased with the results and think it's the right decision," he said.
Counting pre-judgment interest, total damages could exceed $3 million, Pavlack said.
An HHGregg official told IBJ on Wednesday that the company was disappointed by the ruling.
"We are committed to always acting with integrity and conducting business in an ethical and legal manner," said Heather Greenawald, vice president and general counsel. "We are disappointed with the decision and will explore all legal avenues at our disposal in response. We remain proud of our employment record and our position as an employer of choice in Indianapolis and across the U.S."
Underwood voluntarily left the company in January 2013, two months before he filed suit. He sued the company for breach of contract and unjust enrichment.
 
Please enable JavaScript to view this content.