Heads turned earlier this month when Klipsch announced it will supply headphones for the 2015 and 2016 Cadillac Escalade Platinum edition.
The Indianapolis-based maker of high-end speakers and headphones had never ventured into original-equipment manufacturing for the auto sector. And, as CEO Paul Jacobs noted in an interview with IBJ, "it's not a core competency of ours."
Jacobs
But Jacobs said Klipsch saw opportunities when Cadillac approached Klipsch's parent company, Long Island, New York-based Voxx International, about offering a rear-seat DVD entertainment system with two 7-inch screens and two Klipsch Image One headphones.
In the short term, "This was something that we wanted to test with Cadillac on a limited basis and see," Jacobs said. "For us, this was a premium test program, and we would absolutely look to make that part of our ongoing programs."
In the long term, it gives Klipsch another inroad into the premium-priced, high-performance headphone market. The Escalade Platinum starts at around $90,000, and although it's uncertain how many will sell over the two model years, Klipsch expects to supply about 25,000 headphones per year.
The Image One headphones retail for only about $150, making them one of Klipsch's less-expensive models. So even if Klipsch hits its supply projections, the revenue stream from the Cadillac deal would barely move the needle for Klipsch, which is part of a Voxx division with $165 million in annual sales.
But it will further brand awareness as Klipsch continues to build what Jacobs calls "really uber-high-end wired headphones for true audiophiles." And with continued improvement in Bluetooth technology, the company will evolve with both in-ear monitors (selling for $500 to $600) and ultra-high-performance, over-ear products that it will eventually take into the marketplace at a price "well into four figures."
Jacobs said he expects that "we will do more of these things." But he's under no illusions that Klipsch will suddenly become a major player in car audio, which is crowded with perhaps 50 competitors.
"To say that there's a rich pipeline of new opportunities today? There is not. Right now, it is the Cadillac Platinum program and we are fully in the test-it-and-see mode."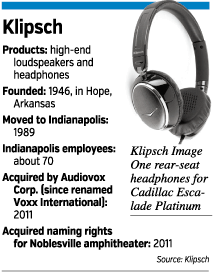 That's a wise approach, said Scott Tilghman, Boston-based senior analyst for the research firm B. Riley & Co.
"For the time being, there's probably a limited addressable market," he said. "Obviously, in an $18,000 car, you're not going to be putting in a Klipsch system. But it's something that can help differentiate for the auto manufacturers: Look, we have this high-end brand available within our vehicles.
"I think it brings awareness to the Klipsch brand for the consumer-type products the company is selling. So I think there'll be more of it, but it's still a premium product and will be put in models accordingly."
Cadillac also isn't looking to make the Klipsch deal a precursor to a large-scale partnership.
Cadillac Lifestyle Communications Manager Eneuri Acosta told IBJ, "Klipsch headphones are a nice addition to the Escalade Platinum model, but Bose continues to be our exclusive partner for audio in all Cadillacs."
The Image One headphones that are going into the Escalade—which were designed and engineered in Indianapolis, and manufactured in China—have garnered strong reviews. Engadget.com said the headphones are "lightweight, comfortable, have great sound, with strong, but not overwhelming, bass." PC Magazine said, "You get the high-quality audio expected from this price range, with no distortion at high volumes and a robust bass response."
Hassan Kassebnia, who installs after-market car stereos at Audio Vision in Indianapolis, said Klipsch makes an excellent product, and getting into car audio makes sense.
"Any manufacturer who tries to get into the [original equipment manufacturer] side is making a smart move," he said. "It takes a huge investment to get into manufacturing because, all of a sudden, you're increasing your production, which is not easy. Manufacturers have to scale up their manufacturing."
Klipsch introduced its first headphones about eight years ago, in a far different entertainment landscape. Apple's iPod was at its height of popularity, smartphones were still in their relative infancy, and quality headphones for use with those devices were virtually non-existent.
Now, Jacobs said, people spend a lot of time listening to music and watching movies on their smart devices. Those people are investing in a better sound experience—and that presents Klipsch with an opportunity to sell high-end headphones.
"You don't have to turn it up so loud to hear it well," Jacobs said. "People are finding out that a lot of that stuff is damaging to their hearing, so they would rather spend more money to have a product that is more comfortable, sounds great and is a lot safer for their hearing. That's what we see happening in the headphone business, and we think it will continue to be a really solid growth segment for us."•
Please enable JavaScript to view this content.