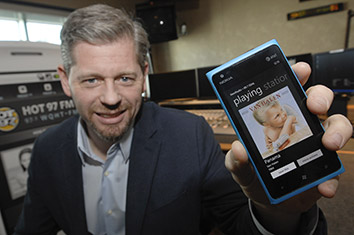 The crusade in the radio industry led by Indianapolis-based Emmis Communications Corp. to give smartphones the ability to work like FM radios has hit a major milestone with a deal through wireless carrier AT&T.
AT&T has agreed to activate the FM radio capacity in all of its Android phones manufactured in 2016 and beyond. Emmis has developed a free app for such phones that acts like an FM tuner, providing a conduit for broadcasters.
"We always felt that one big carrier was the tipping point, and that's where we are right now," said Emmis CEO Jeff Smulyan in a prepared release.
Smartphone owners can be forgiven if they don't know that their phones have the capacity to act like conventional FM radios, picking up signals from local stations.
One big hurdle: Wireless carriers have been reticent to activate the chips in the phones that enable the FM reception. They have lacked incentive to push a service that potentially cuts down on the amount of data customers would use to stream radio.
Station owners such as Emmis have been pushing carriers to activate the chip. They believe bringing radio to the ears of millions of phone owners will revolutionize the radio industry by opening up new avenues for advertising, promotions and station loyalty.
Emmis subsidiary NextRadio LLC has developed an app by the same name that adds an FM tuner to the smartphone, letting listeners select and change channels. NextRadio also uses a sliver of wireless data to give consumers an interactive experience, allowing them to do everything from tracking which songs local stations are playing at any given moment to providing feedback on a track to buying concert tickets.
In late 2013, Sprint agreed to activate FM chips on select Android and Windows smartphones, which then could use NextRadio to receive stations. Since development of the NextRadio app in August 2013, it has been downloaded 3.6 million times.
This week, AT&T agreed to activate the FM radio chips in all of its Android phones manufactured in 2016 and beyond. Gordon Smith, CEO of the National Association of Broadcasters, called the deal "a new beginning in mobile technology."
"With this decision, AT&T's customers become the biggest beneficiaries, giving them access to local radio news, entertainment, weather, and failsafe emergency alert connectivity," Smith said.
NextRadio offers cost savings for consumers, since they can cut back on listening to radio stations or other services through streaming on cellular networks, which devours their pricey data minutes.
And streaming also is expensive for radio operators. For just $39,000 in annual electricity costs, Emmis' Power 106 in Los Angeles can reach 15 million people in Southern California with its traditional FM signal. It would cost Emmis about $1 million a year to send the data to reach a similar audience via cellular services.
The deal with Sprint wasn't cheap. Emmis and other radio operators agreed to pay $45 million over three years.
The deal with AT&T is different, NextRadio President Paul Brenner told IBJ on Thursday. NextRadio, which generates revenue through ad sales and selling data on listener behavior, will share revenue with AT&T. Brenner declined to provide further details on the terms of the deal.
Over the length of the Sprint deal so far, the FM chips in about 15 million of the carrier's phones have been activated. At minimum, Brenner expected about 10 million Android phones to be activated in the first year of the AT&T deal.
By early 2016, Brenner expected the NextRadio app to have been downloaded about 10 million times. "That's about as far into the future as I'm willing to predict," he said.
 
Please enable JavaScript to view this content.