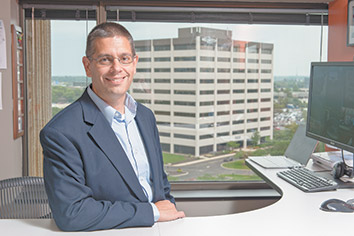 T2 Systems
Chief Technology Officer, Executive Vice President of Engineering and Technology
Some think of parking as a matter of convenience. For Jim Hutchins, head of IT for T2 Systems, it's much more than that.
"It's so much more complicated than someone who is not a part of it would necessarily know," he said. "Duke University has a hospital on campus. If you mess up parking, a surgery might not happen."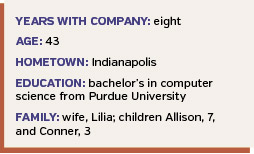 Duke is just one of the many universities—including, locally, IUPUI, Ball State, Indiana and Purdue—that use T2's parking-management services. And so do cities as large as Houston.
"It's about scale and efficiency," Hutchins said. "Nobody with 100 spaces and an apron is going to buy our technology. We're talking about moving tens of thousands of people on and off campus." T2's services allow people to buy permits in advance, to know availability of spaces before driving, and otherwise make parking management as seamless as possible.
"We're called in even before breaking ground," Hutchins said.
In 2014, T2 launched its first mobile app and upgraded its IT infrastructure, which helped grow the company's roster of customers 175 percent, to more than 1,100, and boost revenue 107 percent.
What got him hooked on the field? "Probably a TRS-80 color computer," he said. "I cobbled together enough money and desperately scoured the Trader paper for a computer of my own." Hooking it up to an old 13-inch TV, he learned how to program.
"I was fortunate that I got my first professional job in computers at 16 as an operator for a banking software provider, eventually transitioning into programming. They were surprised that I was capable of doing more things and the position evolved," he said. He helped the company, re:Member Data Services, grow from 19 employees to 153 before it was sold to Open Solutions LLC.
With the new company, Hutchins was key in helping a string of acquired entities fold into the parent. Unfortunately, it put him on the road more than three weeks a month, which was not conducive to starting a family. When a friend discovered that T2 was looking for a new chief information officer, a match was soon made.
At T2, he's accustomed to meeting the needs of very different clients. "Some are absolutely revenue-driven," he said. "Some are service-driven and just want to cover the costs. It's interesting to watch the same piece of software used very differently."
For example, while one customer might want to know where the most income is generated from parking tickets, another might use the data to see where signage might be bad or an area poorly lit. It can also be used to see if parking fines are high enough to discourage those willing to take the risk.
Hutchins' biggest frustration when parking his own car? "I can't fathom how, in 2015, there are still places that are charging $10, $20 or $30, and I still have to pay cash."•
Check out more CTO honorees..
Please enable JavaScript to view this content.