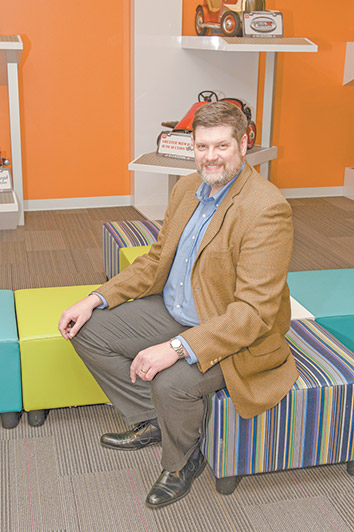 NextGear Capital Inc.
Chief Technology Officer
Carmel-based NextGear Capital provides lines of credit to more than 20,000 auto dealers to buy new and used inventory. NextGear was created after Atlanta-based Cox Enterprises bought Carmel-based Dealer Service Corp. in 2012 and combined it with Atlanta-based Manheim Automotive Financial Services.
What was needed next, Cox management decided, was to bring IT in house.
The company's search for a chief technology officer turned up Bryan Everly. An early employee of Software Artistry, where he was promoted to director of worldwide product development/site executive, Everly left to form his own software company, Veregon/PeopleStrategy. After selling it, he served as senior director of software development at ExactTarget and vice president of worldwide engineering for Aprimo.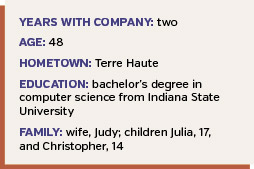 "My mission [at NextGear]," Everly said, "was to build the software development practically from scratch. … It was like being in the best-funded startup in the city."
He interviewed more than 900 candidates to add 120 software professionals to an IT staff of three.
"The biggest mistake companies make when trying to find those people … is not understanding that these bright young programmers are creative types. They're shy and introverted," he said. "The worst thing you can do is stand them up at a white board and shout questions. There are companies with eight to 10 interview panelists to one candidate. That's pretty intimidating."
The alternative?
"We give them a special project and say, 'Build it, and tell us what you built.' They geek out on it and we find out what their strengths are."
Everly believes in creating small teams to work on "sprints"—two week, bite-size projects, at the end of which something is delivered that adds business value.
"Ten years ago, people crawled into a hole for 18 months and came out with a fully formed thing. That's a lot of waste since 40 percent of the stuff is not relevant anymore." It's better, he said, "to say, 'At this moment, what is the most important thing we can do?' That may be very different two weeks from now."
The process seems to have worked at NextGear, where Everly's team helped grow the company's loans from $1.6 billion to $3.2 billion from January 2013 to December 2014. In 2014 alone, the company grew its loan volume by $1 billion, and its goal is to double again by December 2016.
Under Everly's tech leadership, NextGear switched from .Net to Java frameworks, created data centers and security practices, and launched business in Canada and the United Kingdom (Australia is next).
Everly is a TechPoint board member and also serves on the Rose-Hulman Computer Science Advisory Board. He's committed to attracting tech headquarters to Indiana and keeping existing ones here.
"The traditional life cycle is that a Midwest company starts, does well, has a big hit, sells to someone out of state, some of the leadership jumps out and starts something else, but over time the headquarters moves out of state. How can we retain the big ones we start ourselves and potentially attract others?" He has his eye on Google Fiber, a high-speed Internet service targeting cities roughly the size of Indianapolis. "That would be tremendously valuable if we could get Indy selected for that."
"It's not so much chasing smokestacks," he said, "It's chasing bitstreams."•
Check out more CTO honorees..
Please enable JavaScript to view this content.