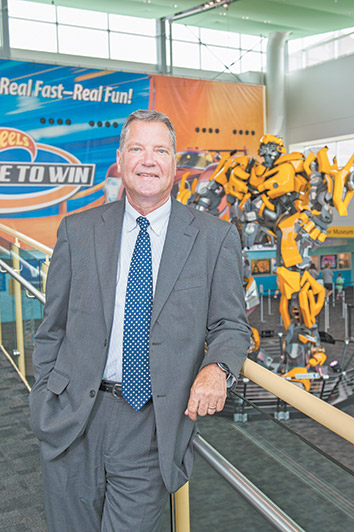 The Children's Museum of Indianapolis
Chief Technology Officer
More than 1 million visitors make contact with the work of David Donaldson each year. And many of them have grimy fingers.
"Most IT people I know don't want anyone touching their equipment," said Donaldson, chief technology officer for The Children's Museum of Indianapolis. "But there's a lot of hands touching a touchscreen here."
The interactive elements of exhibitions are a big part of Donaldson's job, but they are just the most visible elements. His work to increase the museum's e-commerce has contributed to an average growth of 9 percent a year since 2011. He has leveraged strategic relationships that led to nearly $80,000 in donations—cash and in-kind—in 2014.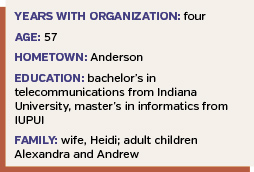 Donaldson developed internal budget-tracking processes, improved security systems, and found outsourcing options and other methods to reduce expenses. Plus, there's the unexciting everyday stuff.
"Behind the scenes, there's a robust data center that runs all of our business systems," Donaldson said. "When you come to the museum, you don't think about the back-office functions."
What you do think about are the cool hands-on pieces in the exhibition. But Donaldson is careful to make sure the tech fits the purpose.
"We would not do an experience in a gallery just for technology's sake," he said. "The goal is family learning. Sometimes that can be solved with a physical interactive. It doesn't always need tech." When it does, he wants to use tech at the right time. "First and foremost, it has to work—not only to meet the educational objectives but also the functional. Unless it's proven to be functional in our environment, we may wait."
For example? "A couple of years ago, we looked at the Microsoft Kinect for Xbox for screen gesturing and decided not to incorporate it. It failed more often than it worked. Flash forward and we have incorporated it into the "Transformers" experience. It allows children to be scanned in front of a screen, become [the character] Bumblebee, and have an interactive experience vs. the Decepticons. The technology matured and became more stable."
Like most of the CTO honorees, Donaldson credits his team with much of his success.
When he moved to the Children's Museum after 24 years with Indiana University (including as director of learning operations from 2009 to 2011), "I inherited a staff that knew how to keep the place running—which is a tall feat in itself. We've completely reorganized to align more closely with our strategic plan. We strengthened our infrastructure and we now have a robust website."
"The work flow here is very fast. You have to be able to work collaboratively, not just in technology organization, but to support our marketing efforts and our fundraising and development. You have to be able to work in that deadline-driven environment."
"And," he added, "also have fun."•
Check out more CTO honorees..
Please enable JavaScript to view this content.