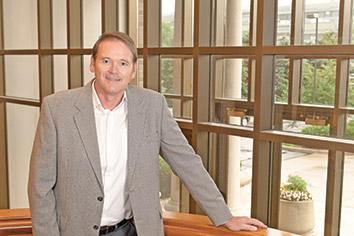 Sigma Theta Tau International Honor Society of Nursing Inc.
Chief Information Officer
No matter where he has worked—whether for USA Funds, Celadon, the Indianapolis Symphony Orchestra, Clout Financial Services or his current job with Sigma Theta Tau—Timothy Ringlespaugh has believed that "tech is always pretty much the same."
"Each company," he said, "needs a strong tech-based platform, solid networking, and staff to understand and embark on new technology." Technology, he said, changes the culture of an entire organization, so "increasing and improving communications is always a good thing."
Sigma Theta Tau, founded in 1922 by six Indiana University nurses and now located on the IUPUI campus, serves 135,000 active members through 500 chapters in 85 countries. Ringlespaugh manages a staff of 14 focused on Web programming and design, network engineering and database management. A new e-commerce site has increased non-dues revenue 8 percent to 10 percent each year since 2012.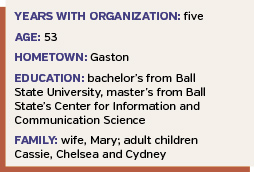 "Our websites are in constant use," he said. "We might go home, but we never really unplug."
"Getting a rock-solid infrastructure in place is critical," Ringlespaugh said. "If you are coming in to work every morning and constantly fixing problems and putting out fires, you don't really have an opportunity to be creative. Once everything is running like a well-oiled machine, you and your staff can start becoming innovators."
When he arrived at the honor society, there was no CIO.
"The IT department was pulled in many different directions and wasn't in line with the goals of the business," he said. "We put together priorities and procedures to create a strong, stable environment and are now all working in the same direction."
"I push my team pretty hard outside their comfort zones," he said. "I make a deal with them: If it works, they can have the credit. If it doesn't, I will take the blame. They've never disappointed me yet."
Ringlespaugh makes sure that IT staff is brought in early in an initiative to ensure that "we end up with a product that the people using it can really take advantage of. We aren't the gatekeepers of technology. We want the staff working with us, not against us, which makes things a lot easier."
He pointed to a partnership with the marketing department as indicative of his cooperative philosophy. A targeted email renewal campaign used a cross-functional department product team, creating roles, responsibilities, key performances indicators, and a clear definition of success. The result: double-digit improvements on conversion rates, click-throughs and open rates—as well as a savings of more than 20 hours a month in labor.
"And because of the platforms we've built," he added, "we are able to take advantage of new technologies that have come along, including single sign-off, responsive design, cloud-based computing, and continuous integration."
"We're in a good position to take advantage of whatever next opportunity comes our way."•
Check out more CTO honorees..
Please enable JavaScript to view this content.