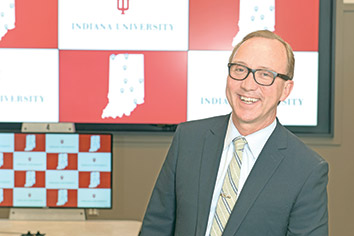 Indiana University
Chief Information Officer, Vice President for Information Technologies, Professor of Information Systems
Indiana University's Brad Wheeler has been on the forefront of developments in digital textbooks, virtual software delivery, open-sourced software, and innovative learning environments across eight campuses.
Wheeler grew up "a 4-H kid" in Oklahoma. In eighth grade, he taught himself Basic programming on a Wang computer. "My dad had a car dealership and they purchased one of those extraordinarily expensive devices for contracts; I bought a book and off I went." Soon, he was doing accounting for the dealership while working at Radio Shack.
After earning three degrees, including a doctorate at Indiana University, he became a tenure-track professor at the University of Maryland specializing in how groups can use technology more efficiently.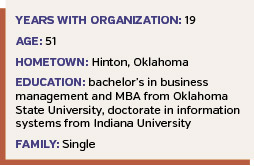 "The Internet popped right after I got there," he said. "The timing could not have been better." Research took him to 35 countries on six continents. "Lots of people were still trying to get their heads around what the Internet meant. It wasn't about educating executives on what to do, but how to adopt a mental model to adapt. The basis of all of this is economics, not technology."
A call from IU brought him back to Indiana, where he "went through the tenure grinder" and became a full professor. In addition, he has run IU's IT department since 2007.
"From the rise of satellite systems to the development of the CD-ROM, the death of the university has been exaggerated," he said. "What we see instead are new technologies that complement the modalities of learning instead of substitute."
One way Wheeler and IU are pioneering is through the university's eTexts program.
"Inflation in health care looks anemic compared to inflation in textbooks," Wheeler said. "Students have lots of devices to read them; the only thing missing is a good economic model."
Under his program, which involved extensive negotiation with publishers, students pay a small fee to get all the digital products they need.
"It dramatically drops the price to each student while still getting the authors paid," he said. Taking it further, Wheeler co-founded Unizin, a consortium of universities striving to exert great control over the digital learning landscape.
On the software front, Wheeler's projects—including Sakai, Kuali, HathiTrust and Net+—mix open software with traditional development models. The efforts have pooled more than $60 million in investments from more than 50 institutions and commercial firms.
He has led numerous collaborations in higher education, a world where competition is the norm.
"We really are the university that 'gets the band together,'" Wheeler said. "That's one of the roles I've been able to play."
For example, IU avoided $20 million in costs by not putting in a commercial financial system. Instead, it built one with Cornell and Michigan State.
Wheeler takes satisfaction in the fact that Computerworld has included IU on its list of 100 Best Places to Work in IT.
"We have pretty modest turnover not because we are the salary and wage leader, but we've made the place work in other ways," he said. "[The award] means our people feel that they can be successful here. They can feel led more than managed. They want to come to work and they are working on aspiration goals."•
Check out more CTO honorees..
Please enable JavaScript to view this content.