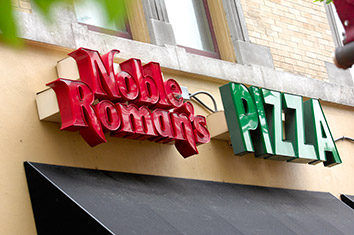 Noble Roman's Inc. is ramping up its efforts to grow the company's take-and-bake pizza business.
The Indianapolis-based franchisor of Noble Roman's Pizza and Tuscano's Italian Style Subs in the past two months has increased its product presence in supermarkets and hired an executive to oversee grocery operations. At the same time, the company has secured more financing to help achieve the growth.
Noble Roman's in June began providing pizzas to seven more grocery distribution centers that deliver to about 1,200 stores in six states. The company now stocks 17 distribution centers and expects to add up to 10 more centers by the end of August.
As a result, Noble Roman's expects revenue in the grocery segment to grow this year by at least 70 percent from 2014, to between $2.5 million and $2.8 million. Overall company revenue in 2015 should increase 20 percent from last year, to between $9.3 million and $9.9 million, the company said.
Noble Roman's on Tuesday reported second-quarter revenue of $2.2 million, up slightly from $2.1 million in the year-ago period.
The company saw profit of $170,000, or 1 cent per share, compared with $503,000, or 3 cents per share, in the second quarter of 2014. Excluding adjustments, profit would have been $540,000, or 3 cents per share, the company said.
"Interest in our grocery store venue continues to expand, and we are building the network to enable us to take advantage of this opportunity by adding distribution centers, which gives us new potential customers for further expansion," said Paul Mobley, Noble Roman's chairman and chief financial officer, in a prepared statement.
The company also hired a veteran supermarket executive with more than 40 years of industry experience to lead grocery operations. Frederick P. Ruehl joined Noble Roman's in early July as vice president of supermarket development, procurement and distribution.
Ruehl's career includes stops at Kroger, SuperValu, Unified Grocers and, most recently, CSM Bakery Solutions' BakeMark division, where he was responsible for sales, marketing and brands for 1,500 bakery and food-service operations.
Noble Roman's continues to focus on growth in three primary areas: franchises and licenses in convenience stores; take-and-bake pizzas in grocery stores; and stand-alone take-and-bake franchised locations.
Early last month, the company borrowed $600,000 from Kingsway America Inc. to finance its growth plans.
 
Please enable JavaScript to view this content.