Under new leadership and in a new location, the Indiana Manufacturers Association is poised to take on an old challenge: closing a skills gap that business officials say is plaguing Indiana.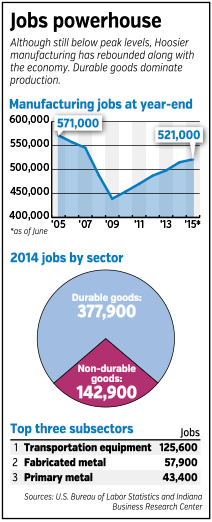 "This is coming to the forefront now," said Brian Burton, who just moved up from vice president to president at the trade association. "We're going to put more focus on advocating the need, on telling the providers of the myriad training programs that are out there what's needed by employers."

It's a problem state officials have been trying to solve for years. Republican Gov. Mike Pence has in particular focused on it since his election in 2012, with the creation of a network of committees and councils that aim to coordinate programs and let communities determine their needs.

But for too long, Burton said, government has focused on creating training opportunities and then trying to sell them to manufacturers. That's backward, he said.

"We need to talk to employers on the front end to find out what specific types of training are needed," Burton said. "The capacity of training is not the problem. It's the focus that is the problem."

Burton becomes the leader of the IMA as manufacturing jobs have been rebounding in Indiana. As of June, about 521,000 Hoosiers were employed in manufacturing, according to the U.S. Bureau of Labor Statistics. That's up 20 percent from mid-2009, during the Great Recession. But it's about 50,000 fewer jobs than 10 years ago.

Still, Indiana leads the nation in the percentage of its workforce in manufacturing jobs. That's something Burton wants Indiana leaders to remember as they move forward on tax and regulatory policies.

"Manufacturing is the major driver of Indiana's economy," he said.

Burton, who has worked at the IMA for 16 years after a decade at the Indiana Chamber of Commerce, replaces Patrick Kiely, who led the association for 23 years. The IMA just moved to new offices in the PNC Center.