Hidden in plain sight best describes Allegion PLC.

Most everyone, quite literally, has twisted its Schlage-brand door handles. Or flung open a steel door by slamming a push-bar made at Allegion's Von Duprin plant near East 30th Street and Post Road.
Yet Allegion has been operating in relative obscurity since Ingersoll Rand Security Technologies spun off the operations in 2013—even though the move gave Carmel a publicly traded company that booted J.C. Penney from its perch on the Standard & Poor's 500 index.

The company boasts that it's the North American market leader in security products—through Schlage, Von Duprin and LCN brands—and is growing its local presence. It's added no fewer than 300 jobs in Carmel over the last 18 months to what had been Ingersoll Rand's 900-employee operation in Carmel and Indianapolis, according to Allegion executives.

Those numbers might grow in the months ahead, as Allegion last quarter announced three acquisitions in as many months.

And that appetite is not sated.

"One of Allegion's core strategies is to grow through strategic acquisitions," Chairman and CEO David Petratis told analysts during an earnings call on July 30. Second-quarter profits jumped 48 percent, to $63.9 million or 66 cents a share. It was the fourth straight quarter of double-digit percentage increases in earnings per share.

"Our strategy has been focused on opportunities that fill certain product gaps, expand our business geographically, provide new innovative technologies that can be leveraged across the business, and provide solid financial returns."

Jobs surge

The company's Carmel-based Americas region now accounts for 77 percent of sales for Dublin-based Allegion. In fact, Carmel already is the de facto operations center for parts of Allegion's worldwide operation—including global supply chain services, information technology, human resources and legal. Central Indiana is home to 1,200 of Allegion's roughly 8,000 employees worldwide and CEO Petratis keeps an office in Carmel in addition to one in Dublin

Eckersley
Many of the 300 jobs added locally fill corporate functions that Ingersoll Rand previously provided through an operations center in North Carolina. But the Carmel site has also bulked up to support key areas like design and engineering. The company has increased its investment in engineering 25 percent this year, said Tim Eckersley, senior vice president and president of the Americas region.

Eckersley declined to specify exactly how many engineers are employed in the Indianapolis area, citing competitive concerns. That might be best: An arch rival in the $25 billion annual security hardware market in which Allegion competes—Stanley Black & Decker—operates an access products division at the former Best Lock facility it bought in 2002, at East 75th Street and Binford Boulevard.

"It has been a dramatic change since the spin-off of the company," said Eckersley, who joined Allegion eight years ago, when it was still part of Ingersoll Rand.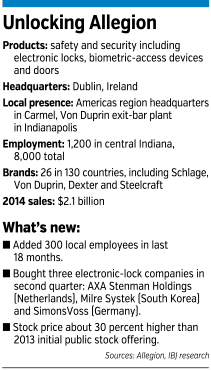 Much of that is due to changing technology and a move from old-fashioned mechanical locksets on doors to electronic controls that allow locksets to be accessed by wireless devices such as iPhones. Customers need only browse the lock section of any big-box home improvement store to see the evolution from electronic push-button locksets, which hit the market more than a decade ago, into stealthy, flat-screen keypads that accept commands from a cell phone anywhere in the world.

Because Allegion sells many of these units to retrofit existing doors, the ability to miniaturize has been essential.

"We've had to build up a lot of electronics skill sets and capabilities," Eckersley said.

Allegion's Schlage brand took this genre of product to consumers in 2009 with its residential "LiNK" keypad/wireless lockset. Since then, sales of Allegion's electronic-integrated products have zoomed 20 percent annually.

Executives say a new generation of products recently or soon-to-be launched will advance that growth. Schlage is rolling out a line of commercial access products that allows a company to communicate wirelessly with proximity and smart-card reader devices mounted on doors. Using software and a wireless signal, a company could instantly change access credentials for particular employees.

Earlier this year, Allegion launched the Schlage "Sense'' product that allows control of locks through Bluetooth. It's a solution that works with the Apple Home Kit.

"We expect we'll be the leader in that platform for them," Eckersley said.

In the second quarter, Schlage introduced its "Control" line for managing multifamily buildings.

"We are the leading security position in retail with channel players like Home Depot, Lowe's and Menard's," Petratis said. "We are anticipating [we'll] sell 1 million electronic locks in 2015."

Technology key

Remaining competitive is a key reason Allegion has been gobbling up new technology via acquisitions. It plans to actively share technology among its divisions to develop common platforms for products sold throughout the world.

"We're early in the process, but we're getting some good traction," said Eckersley, on this day taking a break from inspecting the production line at Allegion's LCN door-closer products plant in Princeton, Ill.

One of three deals announced during the second quarter was the $230 million purchase of Munich-based SimonsVoss Technology. The company had sales of only $69 million last year but is a pioneer of products that include digital lock cylinders, smart-card technologies and smart handles that connect to the Internet.

The smart handles are marvels of miniaturization. SimonsVoss' German engineers came up with a way to cram sophisticated electronics into what appears to be an ordinary, low-profile door handle. The device receives signals from a transponder—which could be an ID badge—an authorized employee carries. The smart handle also can receive wireless instructions from a computer.

The SimonsVoss purchase buys Allegion greater access to customers that use sophisticated electronic-access products—including banks, health care providers and industry. The company has focused on the German market. But Allegion should be able to sell some of the SimonsVoss product line more broadly in Europe and perhaps globally, said Robert Barry, an analyst with Susquehanna Financial Group, in a recent report.

"We believe the deal will engender significant revenue synergies by providing [Allegion] with a much broader electronic locks platform in Europe," he said.

The deal also could allow Allegion to accelerate the integration of its other European businesses under one umbrella, Imperial Capital analyst Jeff Kessler said in a recent report.

SimonsVoss was a pioneer in using digital transponders in its products in the early 2000s, he noted. It has specialized in radio-controlled, wireless locking and access control systems. It also has several branches throughout Europe and in Singapore and the Middle East, Kessler said.

"As such, we believe SimonsVoss offers multiple cross-selling opportunities across Allegion's worldwide footprint, not simply in Europe," he wrote.

Deals keep rolling

The most recent deal—announced July 23—was to acquire Netherlands-based AXA Stenman, which last year had sales of $66 million.

The European residential and portable lock maker's products include window and door hardware and bicycle locks—and that left some analysts scratching their heads.

"How do you really make anything strategic of those type of acquisitions?" Vertical Research Partners analyst Jeff Sprague asked executives during the recent conference call.

"This is a bigger market than you may anticipate," Petratis responded. "This $30 billion mechanical market remains fragmented and [there are] opportunities for us to move and complement our portfolio that we enjoy today."

Other acquisitions have boosted Allegion's Von Duprin plant, which makes push-bars for doors that allow visitors to quickly exit a building but prevent entry from the outside. In April, Allegion completed the purchase of Zero International of Bronx, N.Y., which makes components for doors including thresholds and weather stripping. That acquisition brought additional engineers to Carmel and some new manufacturing functions to the Indianapolis factory, which Ingersoll Rand bought in 1972.

Eckersley said the Zero acquisition also brings opportunities to sell additional products in the Middle East and Asia.

Challenges ahead

Despite the new product lines and recent growth, Allegion faces a number of risks.

One is that the non-residential recovery in North America might decelerate, Bernstein analyst Steven Winoker points out in a report. If fewer companies relocate to other commercial buildings, that could reduce the demand for new access products such as electronic locks.

Allegion is also trying to restructure its Italian subsidiary, known as CISA, which has seen headcount reductions and other changes aimed at improving earnings. Allegion's Europe/MiddleEast/India/Africa region has also been especially problematic. Revenue for that region declined 17 percent, to $84 million, in the second quarter. Most of that can be blamed on currency fluctuations, such as the euro relative to the strengthening dollar and the declining Russian ruble. But strip out the effects of currency fluctuations, and organic growth was only 0.3 percent.

That contrasts with the Americas region, where organic growth was up 7.2 percent (net growth was 0.3 percent, to $402 million) and in the Asia region, where organic growth was up 7.7 percent and net growth up 13.2 percent, to $33.5 million.

"Although there is still more work to be done," Petratis said, "I am pleased with the continued progress of our EMEIA region as they undergo significant change in difficult markets."•