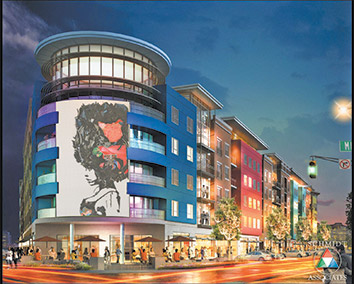 $50 million apartment and retail development proposed for Massachusetts Avenue that's been in the works three years finally is set to get its first review from a city commission next month.
The long-anticipated, five-story project is part of a multi-step city land-swap deal with several pieces that needed to fall into place before the development could proceed.
Montage on Mass, as it's called, will feature 236 units, 36,000 square feet of retail, two levels of underground parking and a giant three-story, electronic-mesh art display at the building's corner.
The project is set to be built on land now occupied by an Indianapolis Fire Department station and the Firefighters Credit Union at the intersection of Massachusettes Avenue, North New Jersey Street and East North Street.

Tikijian
"I think that is an A-1 downtown location," said George Tikijian, senior managing director of the Tikijian Associates apartment brokerage. "I don't think it gets any better than that."
A team of local developers—J.C. Hart Co. and Schmidt Associates, in addition to Strongbox Commercial, led by veteran retail developer Paul Kite—hopes to start construction next summer. The Indianapolis Historic Preservation Commission must approve the design, since the project would be built in a historic district, and will take its first glance at the sketches Sept. 2.
Work cannot proceed until Fire Station No. 7 and the credit union vacate the property. As part of the land swap, the fire department's headquarters is set to move into the existing American Red Cross building at 441 E. 10th St., on the same land where a new fire station is being built.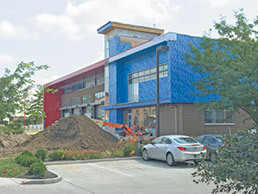 A new fire station is under construction on Fort Wayne Avenue, where the American Red Cross building is located. (IBJ Photo/ Scott Olson)
The Red Cross should move to 1510 N. Meridian St. by the end of the year, once its $9.9 million, 24,000-square-foot headquarters there is finished.
Also, a new credit union will be built to the west of the existing Firefighters Union building at 748 Massachusetts Ave., near College Avenue.
"It was a challenging project to put together with numerous moving parts," said Gordon Hendry, first vice president of CBRE, who advised the city on the swap. "To the city's credit, they were able to get it done."
The city is contributing the land and $3.5 million in tax-increment financing funds to build the underground parking garage. The lower of the two levels will be reserved for tenants; the public can use the level above and 60 surface spaces developers are creating.
The City-County Council in 2012 approved expanding the downtown TIF to support redevelopment of the Mass Ave fire station and other projects. So-called TIF districts capture the additional tax revenue generated by projects in the district to cover the costs of new infrastructure or other government spending that makes the projects financially feasible.

Hart
Projected costs for Montage on Mass have risen from $43 million since it was announced three years ago, to about $50 million. The increase mostly is due to inflation in building costs, J.C. Hart President John Hart said.
Hart has not determined apartment rental rates, but expects them to run $1.85 to $1.90 per square foot—well within downtown's sweet spot, Tikijian said.
"It's not even pushing the envelope," he said, citing Flaherty & Collins Properties' 28-story, $121 million 360 Market's rate of $2.25 per square foot.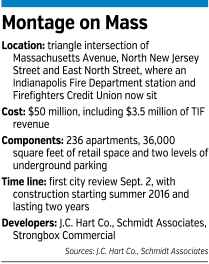 Apartments at Montage on Mass will range from 500 square feet for a studio to 1,100 square feet for a two-bedroom. Based on the anticipated rent per square foot, a two-bedroom would run about $2,090 a month.
More than half the units—123—will be one-bedrooms. Studios will account for 74 of the units and two-bedrooms, 39.
Downtown's increasing vibrancy drew Carmel apartment developer J.C. Hart to pursue Montage on Mass, Hart said. The company's only other downtown project is The Waverly near East and Georgia streets.
"As I looked at the location and the context to downtown, and the proximity to the central business district … it looked to me that it could become a focal point for the whole Mass Ave area," he said.
The project would connect a section of Mass Ave whose growth has been hindered by the fire station, and attract an influx of residents to an area that's seen additional activity even in just the three years since J.C. Hart announced the project.
What made the project's design so intriguing then was its most striking feature—the Times-Square-style video display at the corner of Michigan and New Jersey streets and Mass Ave.

Schmidt
Designer Schmidt Associates kept "95 percent" of the development's original look, firm CEO Wayne Schmidt said, but chose to reduce the width of the screen from 52 feet to 25 feet.
The idea is to display a "rotating art gallery" and perhaps a daily display of arts activities and events, not advertisements.
Despite being scaled back, the design still packs "pizzazz," Schmidt said.
"There's a lot of integrity to the historic character of Mass Ave," he said. "It's going to blend in perfectly and contrast very strongly."
The exterior is a mix of brick, stone and metal paneling dressed in red, blue and yellow hues.
Montage on Mass is not the only project that could bring more housing to Mass Ave.
Indianapolis Public Schools, which owns the 11-acre site east of College on which the former Coca-Cola bottling plant sits, has put that property on the market—likely touching off a fierce competition among developers to turn it into a hub of housing and retail activity.
Requests for qualifications are due Aug. 27.
Apartment developers continue to be drawn to downtown, on the strength of its 95-percent occupancy rate.
"Downtown has performed amazingly well," Tikijian said. "I still think we're absorbing the new units OK."•
Please enable JavaScript to view this content.