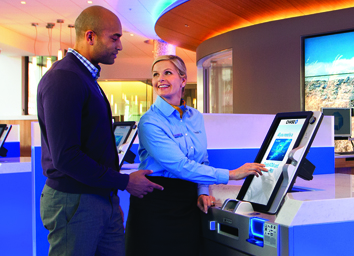 After quiet debuts, New York-based Chase Bank and Cincinnati-based Fifth Third Bank plan to continue deploying tablet-interfaced ATMs in central Indiana, a sign that the new-look banking stations might be a permanent fixture in the "branch of the future" that these and other financial firms have been designing.
Chase has rolled out three so-called express banking kiosks, or EBKs, in the Indianapolis area since May and plans to add five more by the end of the year. Fifth Third has one of what it's calling Smart ATMs in Indianapolis and one more opening before the end of the month, a spokesman said. It plans to have more than 75 in operation regionally by the end of the year.
For now, the new ATMs don't do a whole lot more than their predecessors, besides offering the ability to dispense bills in denominations down to the dollar. Still, they represent a major facelift for a machine whose look and feel hasn't changed much over the years, and their design makes them more conducive to being spread throughout bank lobbies as banks trim their teller counts.
The new ATMs, which feature mounted iPad-style touchscreens, also hold the potential to offer more services in the future.
"We recognize the importance of making sure that as our customers' needs, wants and desires from a financial institution evolve, … we continue to evolve as well," said Tonio Torres, market manager for Chase Indiana bank branches.
Torres said mobile deposits at Chase are up 20 percent across the country, and ATM deposits are up 10 percent. Meanwhile, teller deposits are down 10 percent. In May, the bank saw more ATM deposits than teller deposits for the first time ever.
Those results have driven the bank to reduce its teller presence and increase the percentage of advice specialists. The traditional model for floor employees had called for about 60-percent tellers and 40-percent advice specialists, Torres said, but the bank intends to flip that ratio.
Torres said for the branches he oversees, that will come through attrition, and there will be no job cuts associated with the rollout of the express banking machines.
"We may not need to hire as many tellers," he said.
According to Javelin Strategy & Research, it costs banks an average of $4.25 to complete a consumer banking transaction, compared to about $1.25 for an ATM transaction.
Chase officials said customers will soon be able to make payments on Chase banking products at the new ATMs, as well as cash checks. The machines may also be able to one day perform biometric scanning for identification purposes. Along with the EBKs, Chase said it's also introduced debit and credit card dispensers for people who have had theirs lost or stolen.
A Fifth Third spokesman said the bank is experimenting with video teller technology, which involves tellers conducting transactions from a remote location via live video on an ATM. Indianapolis-based Salin Bank and Birmingham, Alabama-based Regions Bank were among the first in central Indiana to adopt the so-called interactive teller machines, and Louisville-based StockYards Bank said it intends to deploy them as well.
Other banks with a local presence are tinkering with consumer technology as well. This past spring, Canada-based BMO Harris Bank introduced a mobile cash feature, which allows customers to withdraw cash from an ATM with their smartphones. A spokesman for Cincinnati-based First Financial Bank said the bank is currently testing "advanced function" ATMs, but said they're "not doing anything with tablets and ATMs at this time."
 
Please enable JavaScript to view this content.