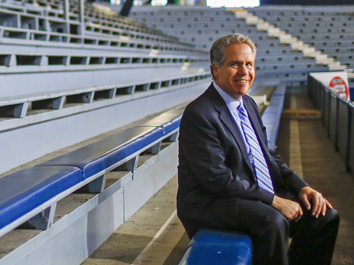 Butler University has given President James Danko a new contract that will extend his stay by five years, the university announced Friday afternoon.
Danko, who became Butler's 21st president in 2011, had a year remaining on his current contract, but the new pact will secure his leadership until Aug. 31, 2020.
Butler's board of trustees, which voted unanimously for the extension "determined that securing him now would ensure strategic continuity and maintain Butler's positive momentum," the university said in a written announcement.
Danko "has successfully advanced Butler University in a clear and positive direction—one that has provided our learning community with renewed vitality and confidence in the future," said Keith Burks, chairman of the board, in the announcement.
Butler declined to provide compensation information. The Chronicle of Higher Education said Danko was paid $490,267 in 2012, ranking him 167th in the nation and second in the state among private-college presidents.
Among numerous accomplishments, school officials praised Danko for engaging the Butler community in the development and implementation of the Butler 2020 strategic plan; establishing the Butler Innovation Fund to support creative approaches to teaching, research, and service; partnering with the Christian Theological Seminary to open the Desmond Tutu Center; and leading Butler's effort to join the Big East Athletic Conference.
"I feel incredibly privileged to serve as the leader of Butler University, and look forward to the exciting work ahead," Danko said in a written statement.
Danko, 62, came to Butler from Villanova University, where he was dean of the business school. He succeeded Bobby Fong, who had led the university through a decade of enormous growth.
Danko had been at Villanova for six years, helping to develop an undergraduate business program that ranked among the top 20 in the nation. Applications to the business school doubled during his tenure, according to his online biography, and financial gifts to the school quadrupled.
He previously served in leadership roles at Dartmouth University, the University of Michigan and the University of North Carolina-Chapel Hill.
Before entering academia, Danko spent nearly 20 years as an entrepreneur, running a surgical supply company he founded as a 19-year-old. He expanded the business over the years before selling Exercare Corp. in 1990.
Please enable JavaScript to view this content.