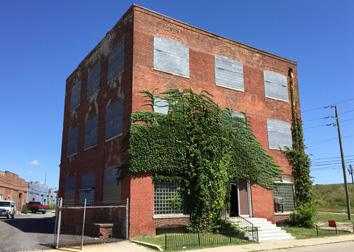 A Broad Ripple jeweler who bought a vacant, three-story building downtown plans to spend $3 million to redevelop the property south of Massachusetts Avenue into residential and retail space.
Nick Blum closed Aug. 20 on the purchase of the brick structure at 740 E. North St. He hopes to move his Blumlux boutique there by the holiday shopping season.

Nick Blum
The development will include refurbished space for three more retailers on the ground level, five luxury apartments on the top two floors and space for two office tenants below ground.
Indianapolis-based Litz Real Estate is developing  the project for Blum and hopes to start work next month. The design still needs approval from the Regional Center Hearing Examiner.
Browning Day Mullins Dierdorf is the architect on the project.
Blum, 29, who designs his own jewelry and watches under his Blumlux label, rents space above Qdoba on Guilford Avenue. But a lack of on-site parking for customers has hindered growth.
A division of locally based Marks Cos., which sold the building to Blum, received approval earlier this month to vacate portions of North and Davidson streets to permit a surface parking lot.
The 13,000-square-foot building is just west of Interstate 65 and at the bottom of one of the off-ramps that shuttles traffic from the interstate to downtown.
Blum said he was attracted to the building's historical character and its proximity to the interstate.
"I wanted to make [Blumlux] part of a lifestyle center and create a unique leisure destination," he said.
Bradley Litz, president of Litz Real Estate, also raved about the location.
"This gives him excellent exposure to the interstate," he said. "Everything else is done [in the area], except for this building."
The building, which currently has boarded-up windows and an ivy-covered facade, has been vacant since 1989. It previously housed a printing company. The property sits in the shadow of Milhaus Development LLC's Circa apartment project.
Blum hopes to have his entire project finished in the next year. When completed, the basement will sport two, 1,000-square-foot spaces for office users.
Blum will occupy 1,800 square feet on the first floor, which will include a showroom—a luxury he doesn't have in Broad Ripple, where business is by appointment only. The space also will include a design studio and lounge where clients can relax with a cocktail and cigar.
About 2,000 square feet remaining on the first floor will be divided among three additional retail tenants.
Three, two-bedroom luxury apartments, each with 1,300 square feet, will occupy the second level and run up to $3,400 per month. Two, 2,000-square-foot penthouses on the third floor, which will feature garage access and rooftop decks, are expected to command $6,000 per month.
The lofts will be furnished and marketed as short-term rental options, Litz said.
"I feel that there is a gap in the market for high-end furnished housing in Indy," he said, noting that tenants might include executives in need of interim housing or athletes with short-term contracts.
Blum has been in the jewelry business for eight years.
 
Please enable JavaScript to view this content.