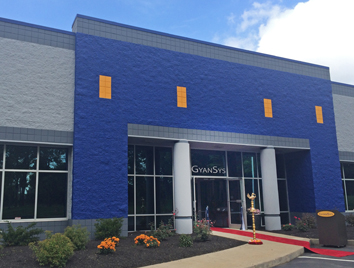 Technology consulting firm GyanSys Inc. plans to add 246 employees by the end of 2020 as it invests $4.5 million in its Carmel headquarters, the company announced Wednesday morning.
GyanSys, which relocated from Austin, Texas, to Indiana in 2005, said it has already acquired, renovated and equipped a 20,000-square-foot headquarters building at 702 Adams St., near South Guilford Road and City Center Drive. A grand opening took place Wednesday.
The company, which also has offices in India and the Phillipines, has more than 500 employees, including about 100 in Carmel. The firm purchased the Carmel building for $2 million and made $500,000 in improvements. Those costs were apart from the $4.5 million in planned investment, which would be for new equipment.
The Indiana Economic Development Corp. offered GyanSys up to $4.45 million in performance-based tax credits and up to $250,000 in training grants. GyanSys will not receive the tax credits if it does not meet the job-creation plans.
The average wage of the new jobs would be more than $70,000. GyanSys CEO Raj Una said about half of the new jobs would offer salaries in the six figures.
GyanSys reached a previous deal with the IEDC in 2009 that called for the company to have 154 local employees by 2014, but the company hasn't reached that number. The firm was eligible to collect $2.1 million in tax credits under the previous deal but so far has collected less than $469,000.
The IEDC said it expects GyanSys to soon reach the employment levels in the previous contract. The company will need to have 400 employees by the end of 2020 to fully collect on the new agreement.
GyanSys specializes in the implementation and support of enterprise application platforms. It services more than 75 corporate customers across the nation from its Indiana offices.
 
Please enable JavaScript to view this content.