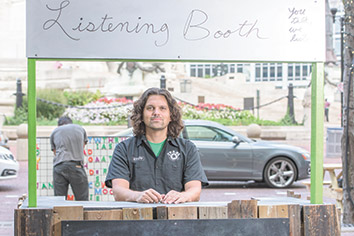 Jim Walker is always pretty busy. But this summer and fall, he's even busier than usual.
On any given Sunday from now to mid-October, you'll likely find him downtown, helping out with "Spark: Monument Circle." It's one of the latest projects tackled by the quirky, art-based not-for-profit called Big Car that Walker helped found and for which he serves as executive director.
The Circle work is the group's most high-profile project to date. Launched Aug. 1 and scheduled to continue until Oct. 16, it's an ambitious attempt to see what happens when traffic around the Circle is slowed, and pedestrians are coaxed to linger by partaking of such unexpected (and temporary) amenities as pingpong tables, costumed mascots and even a tiny, portable museum.
This elaborate experiment in "creative placemaking," a newish term for using the arts to create community-focused public spaces, was financed in part by a $200,000 grant from the National Endowment for the Arts. The data collected from the venture—and Big Car is collecting plenty, even making time-lapse movies of the Circle to study traffic patterns—will be used by the city to develop a long-term plan for the area.
Walker, 46, stops by often during the week. But on Sundays, he spends the entire day there, sometimes accompanied by his wife, Shauta Marsh, and their teenage son and daughter.
"There are days when all four of us are down there," he says. "My kids grew up with this stuff, so it's been going on pretty much their whole lives."
The "stuff" he refers to is the various eye-catching, art-related projects Big Car has undertaken since its 2004 inception. Over the years, it's done everything from creating a multi-artist exhibit saluting filmmaker John Waters to launching a cultural hub called the Service Center for Culture and Community in a former tire shop in the Lafayette Square Mall parking lot. In the process, the not-for-profit's profile has steadily risen, along with its grant-driven budget—from perhaps $30,000 in the early years to a projected $1.3 million for 2015.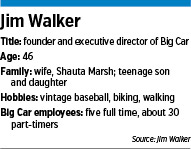 Growing ambitions
Walker's stature has grown right along with that of his brainchild. Yet even now, it's difficult for the layman to grasp exactly what it is that he and Big Car do. Walker has described it as an "art-based, creativity-based not-for-profit that's focused on community development." Put simply (perhaps a bit too simply), it uses art to jump-start neighborhood involvement and development.
"There are examples across the country of artists collectives that work in neighborhood settings, but I think Big Car is probably one of the most successful examples of that business model," said Dave Lawrence, CEO of the Arts Council of Indianapolis.
Walker's original version of Big Car was a far less ambitious affair that has evolved drastically over the years. Actually, the same could be said of Walker himself, who's taken a long, meandering journey to his present role.
Though he always possessed an artistic bent, he worked for two decades as a journalist, landing his first professional gig at age 16 and spending years reporting, editing and shooting pictures for mostly Indianapolis-area publications. A stint at Nuvo Newsweekly as a photographer, then as an arts reporter at The Indianapolis Star, set him on the path to his current work.
"I became more interested in doing art than covering it," Walker said.
During his newshound days, he did gallery exhibits of his photographs, as well as collage, video, installation pieces and performance works, and finished a master's of fine arts degree at Warren Wilson College in Asheville, North Carolina. After leaving The Star, he worked for Indianapolis-based Well Done Marketing, while at the same time developing Big Car. In its earliest iteration, it was a notional music venue in the Fountain Square area. But the group's plans quickly grew.
"Fountain Square at the time didn't have all that many things going on," Walker said. "But we saw that more stuff was coming in and that others were starting artist-run spaces. We thought, 'Let's see what else is missing.'"
The missing piece, the group decided, was a way to engage the neighborhood in the burgeoning arts scene. So that's what Big Car, which opened gallery space in the Murphy Arts Center, did. And that's what it's still doing, though on a grander scale.
"Big Car has evolved," Walker said. "It's been kind of an organic thing. The group started out, and continues to be, very cross-disciplined. You have writers, visual artists, musicians, and also just creative-minded people who might be lawyers or whatever. We got together and figured out how to blend things together."
The Monument Circle experiment is only one of the big projects Big Car and Walker will tackle this fall. About the same time they pack up Spark, they'll start moving into new digs near Garfield Park. It's yet another move for the collective, which seems to relocate about as often as a band of Mongolian nomads. After starting out in Fountain Square in 2004, it moved to a former auto service shop at Lafayette Square Mall in 2011. Now, Big Car plans to set up shop in a clutch of derelict south-side businesses and homes being refurbished to the tune of $1.5 million to $2 million.
Artistic vision
It's all part of the group's grandest project to date—engaging the down-at-the-heels community in artistic endeavors that could help revive its fortunes.
A lot of Big Car's previous efforts were, by design, ephemeral. But the Garfield Park project looks very, very permanent. Perhaps because it's going to take time to turn around this neighborhood (where more than 40 percent of households earn less than $25,000).
Right now, crews are refurbishing a former industrial building called The Tube Factory, fitting it out with workshops, gallery space and meeting rooms. In addition, five area houses are being renovated to serve as artists' residences. Big Car also is turning another building into a "sound art" facility called Listen Hear. When finished, it will include a low-power radio station, artist-curated record store and performance areas.
Walker hopes Big Car can invigorate the neighborhood with art—everything from porch exhibits at artists' homes to concerts. The object is to use culture to engage the local citizenry, but also to spark redevelopment.
It's a model that's worked before in Fountain Square where Big Car (along with many others) helped draw interest to the area. Indeed, the effort was recently written up in the British newspaper The Guardian, which said Big Car hoped to help residents "feel proud of their locale and consider art and creativity integral to its culture."
"They engage people from the community that might not typically be involved in revitalization efforts," said Bill Taft, executive director of the not-for-profit Local Initiatives Support Corp. "And when people see arts activity there, it flips the perception of the community from one that's maybe disinvested to one that's edgy and creative and on the rise."
Until the Garfield Park digs are finished, Walker and the Big Car staff will operate mostly out of a south-side co-working space called The Bureau. His day begins around 6:30 a.m.
"I can usually think the clearest and write the best in the morning, so that's when I try to do that stuff," he said. "I usually have a lot of meetings all day, then stuff in the evening."
He uses some of his sparse free time to bike, walk and travel. He also plays for a vintage baseball team, which follows 1860s rules (including no gloves) and wears period-correct uniforms.
"It's like being a kid," Walker said. "You just go out and play."
Not that he expects to have a lot of leisure time anytime soon. Right after Spark concludes, Walker will organize TEDxIndianapolis, which will be Oct. 20 at the University of Indianapolis. And right after that, Big Car will move into the Garfield Park headquarters. Which doesn't leave him much time for reflecting on recent accomplishments.
"It will probably be the holidays before we can stop and take stock of what's happened," he said.•
Please enable JavaScript to view this content.