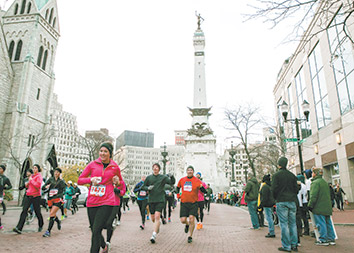 The Indianapolis Monumental Marathon is one of seven U.S. marathons that have teamed with Virginia-based media conglomerate Gannett Co. to form a nationwide marathon series.
Gannett officials said they will recruit national sponsors and promote the races and the series as a whole through Gannett's flagship newspaper USA Today and its other publications—including The Indianapolis Star—and websites.
The Monumental Marathon will remain a locally based not-for-profit, event organizers said, but the deal should boost participation in the event—which consists of a 26.2-mile marathon, a half-marathon and a 3.1-mile race—and enhance the city's brand as a sports and tourism destination.
Gannett is promising to have deals signed with eight more marathons by September and potentially grow the series to 20 events by the end of 2016 while ratcheting up promotions through a series of full-page ads in USA Today and ads in other Gannett publications.
The seven marathons—in Indianapolis; Cleveland; Detroit; Hartford, Connecticut; Portland, Oregon; Sacramento, California; and St. Louis—had a combined 2014 entry list of 121,000. Gannett expects a filled-out series of 15-20 races to have 350,000 entrants. Officials for the marathons and Gannett are meeting in February to discuss cross-promotional ideas and what it would mean for runners to participate in a combination of the series' events.
Sports marketers think the USA Today Active Sports Alliance—as the new series is called—could rival the Rock n Roll Marathon and Half Marathon series, which consists of 30 events worldwide and has signed sponsorship deals with Toyota, Humana, Brooks, Westin Hotels and Michelob Ultra, among others.
"This is as unique and intriguing a sports sponsorship deal as I've seen in quite some time," said William Chips, editor of IEG Sponsorship Report, a Chicago-based research firm and trade publication. "It's certainly a unique diversification of Gannett. That said, I think it has some real potential."
In April, Gannett's USA Today Sports Media Group hired Bruce Revman as senior director of the new series. Revman previously served as senior vice president of marketing for Competitor Group, which owns the Rock n Roll Marathon Series.
Revman is confident the series can nail down a seven-figure title sponsor and six-figure category sponsors by next year.
"We've only been on the ground selling this for 30 days, but we're having some tremendous discussions with various brands," he said. "I think it's very possible we could have three to five sponsorship deals signed before the end of this year."
Things are going so well, Revman said, that a few test sponsorships might run in the fourth quarter of this year with a full-fledged launch in 2016. This year's Monumental Marathon, on Nov. 7, could be involved in the test.
Local money stays
All races will keep their local sponsorships while Gannett takes the lead on selling national deals across the series and placing dozens of print and digital ads year-round.

Boldon
"We still want to work with local companies like Eli Lilly and Co., Taylor Bakery and Franciscan St. Francis Health," said Monumental Marathon Director Blake Boldon. "They aren't going anywhere. But this deal gives us publicity on a national level we never could have afforded on our own and an opportunity to attract national brands like hotels and airlines that we otherwise have a difficult time attracting."
Gannett and the local race organizations will share revenue from the national sponsorships. While Revman is not disclosing details of those deals, he is confident local races like the Monumental Marathon could see an additional six figures in revenue from the partnership.
Boldon said it's impossible to say what the Gannett deal will mean financially for the local race, but added, "it could be significantly lucrative for us."
"What we know is that this model has been very successful for the Rock n Roll series, and they don't have the media power of Gannett behind it," Boldon said.
USA Today already has run three full-page ads for the series and plans to run at least eight more this year, Revman said. The Indianapolis Star has also run ads, and Gannett recently launched a website at idaremeto.com to promote the series.
"We have a sizable, sizable media investment through the end of this year that's heavily supported through USA Today," Revman said, though he declined to name the dollar value of the paid exposure.
The deals carry no guarantee of news coverage for the events.
"If we're newsworthy, we're newsworthy," Boldon emphasized. "That's completely separate."
Gannett was attracted to the Monumental Marathon because of its leadership and growth since its 2008 launch, Revman said.
"We want to be very careful who we partner with," he said. "Just because you add events to the series doesn't automatically mean you can charge more for sponsorships. So if you bring in events that don't add value, it just dilutes the amount shared with the participating races."
The Monumental Marathon—which starts and finishes downtown—quickly became the state's largest marathon. This year, it is expected to have 17,500 participants across its three races and should hit 20,000 in the next couple of years, Boldon said.
"We're not trying to necessarily get a lot bigger," he said. "But we do want to hold the very best race we can."
He said any extra revenue would go to improved race-day operations and amenities for runners and to the organization's pet charities—the Indianapolis Public Schools Education Foundation and initiatives to promote wellness for area youth.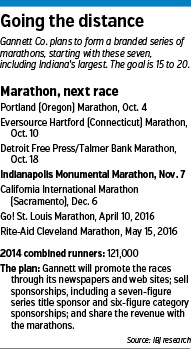 'Dream scenario'
Boldon said there's another benefit to the pact.
"I think this deal can improve the city's brand overall and as a sports tourism destination," he said. "To be promoted nationally in Gannett publications alongside other great events in places like Portland, Sacramento and Hartford is tremendous for this city."
Visit Indy Vice President Chris Gahl agreed.
"We're a city built on a sports culture, and this will do nothing but enhance that," Gahl said. "This race is a unique marketing tool for the city because it runs people past some great monuments and some of the city's other notable landmarks. To have this event amplified through a national media company—at no charge—is a dream scenario."
The demographics of endurance athletics in general—and distance running in particular—made the prospect of the series attractive, Gannett's Revman said.
In 2014, nearly 75 percent of all U.S. road race finishers had a college degree, and more than 70 percent lived in households with annual income of more than $75,000, according to Running USA, a trade group and research firm based in Kansas.
According to IEG, sponsorship revenue for endurance events increased 5 percent from 2013 to 2014. Sports marketers said the Gannett deal could increase that growth for the participating events.
"When you have a media company with the kind of massive reach that Gannett has introducing national sponsors to these kinds of demographics, that has the potential to be a very powerful combination for all parties involved," said Running USA CEO Rich Harshbarger. "This presents a great, and really unprecedented, opportunity for that collection of races and host cities."•
Please enable JavaScript to view this content.