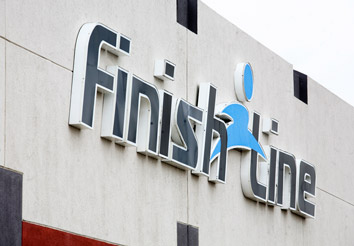 The Finish Line Inc. plans to spend $1.3 million to add new equipment and create 100 jobs at its far-east side headquarters and distribution facility, the company disclosed in a tax-abatement request the city released Monday.
The Indianapolis-based retailer of athletic apparel said it is seeking a seven-year personal-property abatement to offset the cost of the equipment needed to keep pace with the growth of its online and specialty running segments.
Finish Line said the equipment will help it create 100 jobs paying an average of $19 an hour by the end of 2020 and retain 984 jobs that pay an average of $26.13 an hour.
The investment in equipment should result in an increase to the city's tax base of about $520,000 of assessed value in the first year of operation, the city said. During the seven-year abatement period, Finish Line should save $62,969 in personal property taxes while paying $38,430, according to the filing.
The city's Metropolitan Development Commission is set on Wednesday to consider the request for preliminary approval. Final approval would be granted at the MDC's Sept. 16 meeting.
Finish Line operates 1,020 stores in malls and Macy's department stores and 76 Running Specialty shops.
Shares of the publicly traded company were fetching $26.34 each on Monday afternoon, down from a 52-week high of $31.90 reached last September.   
 
Please enable JavaScript to view this content.