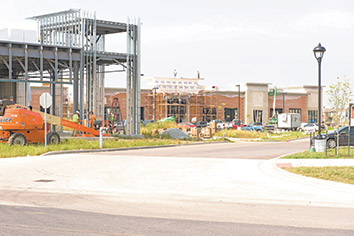 The 400-acre Legacy mixed-use development along 146th Street in Carmel—a project that stalled only a few years after breaking ground—appears to be gaining momentum again.
Since Virginia-based Falcon's Nest LLC purchased the property in 2011, the development has slowly attracted single-family housing projects that have led to a day care and nearby commercial growth.
More projects aimed at upscale consumers are also in the works.

Bowen
"We all want to see it developed," said Shelby Bowen, vice president of development for Envoy Inc., who has joined Falcon's Nest's commercial development team. "The rooftops have picked up."
East Carmel LLC, a partnership with Indianapolis upscale residential real estate developer Platinum Properties LLC, initially owned the land for Legacy, on 146th Street between River and Cherry Tree roads.
The planned $100 million development launched in 2007 and a 287-unit, upscale apartment complex by Carmel-based J.C. Hart Co. was the first project to break ground.
"This property was hot and heavy in 2008," said Paul Rioux, president of Platinum Properties.
The $28 million Legacy Towns & Flats opened in 2010. But the following year, parcels intended for single-family homes, retail and office use were not selling and Platinum Properties filed for bankruptcy.
Rioux remained hopeful Legacy would be developed someday.
Falcon's Nest revived the project about four years ago and kept Rioux's company on board as project manager.
Since then, more than 300 single-family homes have been platted in developments by Carmel-based Wedgewood Building Co. and Indianapolis-based Ryland Homes. More than 120 of those homes are either occupied or under construction, according to Rioux.
Legacy "still has a lot of life left in it," he said.
J.C. Hart also added 78 apartments to Legacy Towns & Flats last year.
"Residential has been quite a success story for us," Falcon's Nest owner Rajai Zumot said.
Now that density is increasing, the development team is pushing ahead with the commercial portions.
"One follows the other," Zumot said. "We're not going to build the retail for nobody."
The company is planning two 10,000-square-foot retail structures near the intersection of Community Drive and 146th Street.
Falcon's Nest also hired Bowen and RealtyQwest broker Drew Kelly to attract more upscale retail—possibly coffee shops, restaurants or a dry cleaner. Zumot said the company has seen preliminary interest.
And Kelly said the development could attract a specialty grocer as an anchor tenant as well as high-quality restaurants.
The increase in housing has already attracted other projects.
The Play School at Legacy, a day care and preschool, opened this year on Community Drive off 146th Street, and three multitenant retail buildings are under construction nearby at the corner of 146th Street and River Road.
A Ricker's convenience store and Subway are already open at the River Road intersection, and a liquor store, nail salon and chiropractic office have staked claims in a nearly finished 18,400-square-foot building.
The two other structures will offer more than 41,000 square feet combined with space for up to 25 retail stores.
"The corner kicked it off, but it feels disconnected," Rioux said, referencing the open land between the retail development and housing at Legacy. Developers hope starting another project on 146th Street will help tie the area together.
"It's kind of like, who's gonna hit the first domino?" Bowen said.
Long-term possibilities also include a theater, office space, an assisted-living facility, a hotel, ice skating pond, outdoor music venue and walking and biking trails. More than 100 acres of green space will be preserved.
"We're hoping to make it a destination place," Zumot said.
Rioux said a company looking to build a skilled-nursing home on five acres has expressed interest and that could closely follow construction of the two retail units.
Carmel Mayor Jim Brainard said he was glad to hear Legacy seems to be gaining momentum again.
"It got caught up in the recession," Brainard said. "It's a good project."•
Please enable JavaScript to view this content.