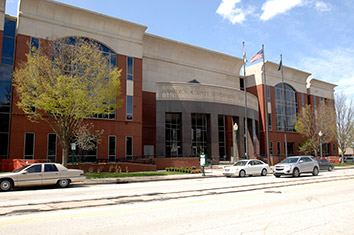 Hamilton County officials are moving forward with an expansion plan for the county's judicial center instead of constructing a new building east of State Road 37—in part to keep workers and users in downtown Noblesville.
The addition could cost as much as $22 million, include three stories of about 35,000 square feet each, and consolidate county offices into one building. But officials say plans and designs are not final.
"Whether we want to bring that big of a footprint or not, it will depend on what our space needs look like," said Hamilton County Commissioner Christine Altman.
The county built the existing center—which houses the court system, meeting rooms for the board of commissioners and county council, and offices for several county departments—in 1992 with the assumption that more space would be needed in 20 years.
Leaders started contemplating the county's options a couple of years ago and debated whether to add onto the west side of the existing 201,000-square-foot facility or construct a building on county-owned land on Foundation Drive, east of S.R. 37.
The Hamilton County Board of Commissioners, the county's three-member executive board, has now decided that adding to the current building—which is next to the White River on North Eighth Street—is the best option for both the county and Noblesville.

Altman
"City government came to us and said, 'We really would like your core activities downtown,'" Altman said.
Officials hope to get the addition under way next year and completed by 2018.
The commissioners have hired Indianapolis-based American Structurepoint Inc. as project designer. Company officials have been meeting with county department heads to determine what the expansion needs to include; the budget is not to exceed $22 million.
Any appropriation would have to be approved by the seven-member Hamilton County Council. Commissioner Steve Dillinger said funding would come from an existing $12 million bond and the rest from the county's rainy day fund, which has more than $20 million.
The new space would be used for more courtrooms and would allow departments still operating in the historic courthouse across the street on the square—including offices of the treasurer, recorder, auditor and assessor—to move into the judicial center.
The third-floor addition could be leased until the county needs the space.
"We do want to make sure it's consistent with the existing building," Altman said of the design. "We're pretty firm on that."
A report detailing needs for the next 10-25 years should be completed within two weeks.
Kyle St. Peter, a principal with American Structurepoint, said as many as 16 more courtrooms could be needed by 2040 to handle the county's caseload. A study released earlier this year shows the county already needs four more judicial officers. In addition, most departments have requested more meeting-room space.
The design team is also considering ways to reorganize existing space by, for example, creating a counter shared by several departments for transactions with the public. Commissioner Mark Heirbrandt said the goal is maximizing "the efficiency of the space that we have."
Commissioners in July selected Fishers-based Meyer Najem as the project's construction manager.
"I look forward to working on the plan," Altman said. "It's an exciting venture for the county and its employees."
The decision to remain downtown is a relief for Noblesville officials who once worried the area would lose hundreds of daily visitors between the county's employees and people doing business at the judicial center.

Ditslear
"It means everything to us," Mayor John Ditslear said. Choosing to build a new facility elsewhere "certainly would have been very devastating to downtown."
Altman said county officials decided that building on land next to the Hamilton County Health Department off S.R. 37 didn't make sense because it would have further separated departments. And she said there wasn't enough parking space.
Altman said the county will use that property "at some point, we believe."
Officials also decided the economic benefit of keeping foot traffic downtown outweighed the possible tax-base increase that could have come from moving the tax-exempt judicial center out of downtown, opening the "valuable ground" left behind for private development, Altman said.
Future uses for the historic courthouse remain a question. County officials plan to explore creative options with local not-for-profits and tourism organizations.
Altman said she would like to preserve the building's courtroom and possibly use it for community events.
Ditslear said the courthouse might work as space for entrepreneurs or as a place to showcase artwork.
"I don't have a whole lot of ideas at this point," he said. "Certainly, that space is valuable."•
Please enable JavaScript to view this content.