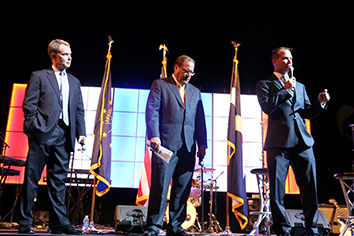 The two men running to become mayor of Indianapolis—Democrat Joe Hogsett and Republican Chuck Brewer—seem to agree on several of the key issues shaping the upcoming mayoral election.
Especially how much they admire outgoing Republican Mayor Greg Ballard.
The candidates kicked off election season with the city's business and political community Thursday at the Indy Chamber's annual HobNob event and appeared onstage together to talk about reducing crime, creating jobs and improving the city's education system.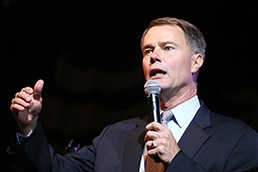 Just hours earlier, the business group had released the results of a new poll that found Ballard appears likely to leave office toting an excellent approval rating along with his cardboard box of belongings. So it was no surprise that both candidates said later that Ballard had steered the city in the right direction during his eight years in office.
"We have a wonderful mayor," said Hogsett, a former U.S. attorney and former Indiana secretary of state. "I have big shoes to fill. We need to collectively think about what the 21st century really means for the next generation of residents of our city."
Brewer said the task now is about fixing what's broken.
Voters "don't feel very good about public safety," said Brewer, a U.S. Marine reservist who owns an Indianapolis Potbelly Sandwich Shop franchise as well as soup shop Soupremacy. "They don't feel very good about public education. They may like Mayor Ballard, but there's a whole host of things we need to fix in this city. I'm focused on building his legacy."
The new Indy Chamber poll found Ballard has a 65.8 percent approval rating among likely voters—an impressive feat for a Republican in a city that has wide Democratic support.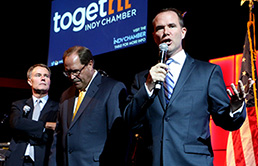 The poll, which was unveiled at the HobNob, surveyed 401 Marion County residents who have cast ballots in two out of the past four elections. It was conducted Aug. 24-27 and has a margin of error of plus or minus 4.9 percentage points, according to the organization. The chamber did not release the results of the poll's questions about the current race.
Ballard, a retired Marine lieutenant colonel, campaigned back in 2007 on capping property taxes but has also championed traditionally liberal causes, such as his outspoken opposition this year to Republican Gov. Mike Pence's "religious freedom" law, which opponents said would allow discrimination of LGBT people.
The decision voters have to make in November, the candidates said, was who has the right experience to take over his legacy.
Hogsett and Brewer seemed to agree on several key issues:
-They each plan to add 150 new officers to the Indianapolis Metropolitan Police Department force and place a renewed focus on community policing.
-They'd both champion statewide civil rights protections for LGBT people.
-They support boosting the quality of life in Indianapolis to spur population growth to attract a talented workforce.
Their differences lie in the details, Brewer said, which is why he proposed nine debates with Hogsett over the coming months. He said he hopes voters have more opportunities to hear both of the candidates dig deeper into the issues.
"There's lots of things we do agree on, and there's lots we don't," Brewer said. "If we have more debates, you'll see some of the differences come out."
Hogsett's campaign spokesman, Thomas Cook, said the campaigns were still negotiating the specifics of debates. Hogsett's campaign has agreed to two TV debates, two radio debates and a series of town hall forum discussions hosted around the city.
"It's probably more of an ongoing discussion than a settled matter," Cook said. "From our perspective, we've put on the table ample opportunities for voters to hear from the candidates."
 
Please enable JavaScript to view this content.