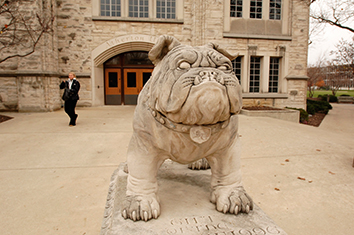 The adviser for Butler University's student newspaper has been removed from the position and replaced with a university spokesperson, an unusual situation that raises conflict-of-interest questions.
Loni McKown, who was entering her sixth year as the adviser for the Butler Collegian, said she received a letter dated Sept. 4 informing her that she was no longer the Collegian adviser.

Loni McKown
"It is not unusual in the least bit for university administration to not like the student news media," McKown said, describing the university's relationship with the Collegian as "hostile." "I believe I have been removed from the position because I do my job well."
Marc Allan, a spokesman for Butler, confirmed Wednesday that he was selected to be McKown's successor, and he will continue his job in the university's public relations department.
Before joining Butler in 2004, Allan worked as a newspaper reporter for 24 years, with most of his career spent at The Indianapolis Star. He has taught classes in the Eugene S. Pulliam School of Journalism in the College of Communication at Butler and has been the Collegian's public editor for the past year.
"I'm going to give the kids the best advice that I can," Allan said. "I'm not going to tell them what to report."
McKown said she wasn't given a reason for the removal but believes it was result of accidentally forwarding the Collegian's student editor a confidential email that had been sent to faculty from College of Communication Dean Gary Edgerton.
"It was inadvertent," McKown said. "I apologized and said it would never happen again."
She said she regularly passed along possible news tips to student editors with the tagline "FYI."
"There is a perception that I am some kind of Wizard of Oz behind the curtain controlling content," McKown said. "Here's what I've learned over the past five years—the students are smart. They decide the content and the coverage. … Most of the time, they don't even pay attention to my tips."
Edgerton did not respond to IBJ's request for comment.
John Krull, director of the Pulliam School of Journalism at Franklin College and publisher of the student-operated TheStatehouseFile.com, said he occasionally forwards students emails as news tips, but not always.
"It depends upon the context, I suppose," Krull said, mentioning if it were sent to him in his capacity as director of the journalism school, he probably wouldn't share it. "That's separate from my role as publisher, and I have to honor both roles."
McKown said the email she received from Edgerton notifying her of the removal specified that she cannot advise students working for the Collegian in any manner and doing so could result in additional consequences, including termination.
McKown is still a professional practice faculty member for the journalism school. Before starting as an adjunct professor in 2009, she spent five years as an investigative producer for WISH-TV Channel 8 and 11 years as a reporter for The Star.
During her tenure as adviser, the student newspaper received a national Mark of Excellence award from the Society of Professional Journalists, a Pacemaker—considered the Pulitzer Prize for student publications—and a national award from Investigative Reporters and Editors.
"Loni is somebody that's very highly regarded in college media circles and has been for a long time," said Frank LoMonte, executive director of the Student Press Law Center. "Losing her as an adviser is a real blow to that program."
Allan said he was asked about taking the position about a week and a half ago and was notified Tuesday that he would be taking over.
"I understand why people might find this objectionable in journalistic terms," Allan said. "I would say that anybody who knows me knows I care deeply about journalism and the quality of good journalism, and I would never do anything to harm that."
Krull said he normally would consider it a conflict of interest to have an employee from the public relations department advising the student publication, but Allan might be successful at it.
"I have a lot of faith in Marc Allan's integrity and his ability to separate his roles," Krull said.
The College Media Association's code of ethics for media advisers says such arrangements should be avoided.
"Advisers should be keenly aware of the potential for conflict of interest between their teaching/advising duties and their roles as university staff members and private citizens," the code says. "It is vital that they avoid not only actual but apparent conflicts of interest. The publicity interests of the university and the news goals of the student media are often incompatible. Advisers should be aware of becoming the publicity focus of organizations to which they belong or for activities in which they are participating."
LoMonte said a conflict of interest is inevitable when a spokesperson's job is to put the university in the most favorable light while the newspaper has a responsibility to shed light on issues.
"It's just going to create a conflict sooner or later when it's the duty of the newspaper to publish something unflattering," LoMonte said.
Allan said he will not have prior review of the publication. If a conflict arises and he can't separate his roles, he said he will refer to professional journalism colleagues to help resolve the situation.
"I'm not going to do anything that jeopardizes my job, but I'm not doing to do anything that harms the students," Allan said.
McKown said she's concerned about being replaced by someone who is frequently quoted in the newspaper as a university representative.
"I'm severely disappointed that a place of higher education doesn't do more to foster freedom of expression and freedom of the student press," McKown said. "I'm dismayed by that."
LoMonte said it will be intimidating for student journalists to have someone from the university's public relations department looking over their shoulders.
"Students are very protective of their publication," LoMonte said. "And they've just seen their excellent adviser pushed out of her job."
Collegian Editor-in-Chief Matthew VanTryon, a junior journalism major at Butler, said he was informed Tuesday of the decision, which came as a surprise.
VanTryon said Allan is qualified to be the adviser, but not while he's a spokesman for the university.
"He cannot serve both of those roles," VanTryon said. "You can't get around that conflict of interest."
McKown said she will miss her role as adviser, but she feels worse for the students.
"The start of their school year has been unnecessarily disrupted," McKown said.
Please enable JavaScript to view this content.