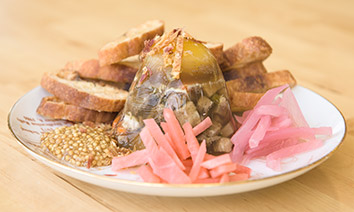 Now that downtowners have officially discovered Fountain Square and Virginia Avenue, perhaps their exploratory spirit can be channeled into a jaunt east on 10th Street to Pogue's Run. Trust me, something wonderful is waiting there (as long as you make it before 2:30), thanks to a pair of expat Milwaukeeans.
I'm speaking of Love Handle (2829 E. 10th St., 430-5004), a delightfully delicious new eatery adorned with a variety of doorknobs and other handles affixed to the wall, mismatched mugs on the tables, to-go meats behind the counter, and creative delights coming out of the kitchen. (Be warned: The menu changes regularly, with dishes rotating in and out of the mix.)
My first encounter with Love Handle came when, having inadvertently skipped even a cursory breakfast, I stopped in for a late-morning bite. Greeting me was a where-have-you-been-all-my-life Root Veggie, Smoked Brisket, Braised Pork Shank Hash ($8).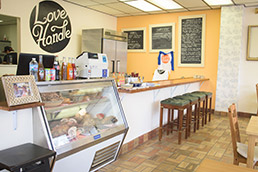 Meats, desserts, and sandwiches can also be grabbed to go at Love Handle. (IBJ photo/Eric Learned)
Here, your fork has a variety of options. One is to take one delicious ingredient at a time. Another is to prong a piece of meat, then dredge it through the spicy Hatch chili cream and poached egg. A third is to place any of the above on a piece of the crunchy toasted bread. Whatever the case, Love Handle's hash is the kind of dish that puts a restaurant on one's must-return list.
I did, just a week later, for take-out sandwiches. While the Salas ($10) seemed to be trying a tad hard with its combo of smoked beef heart, bright purple beet confit, whiskey and coke mustard, and white American cheese, I treasured every bite of the Hardesty ($10), a world-class combo of braised pork cheek, peppers and onion, and mild taleggio cheese. Both came accompanied with a smattering of pork fried popcorn. Other days, you might find seasoned pork rinds along for the ride.
Yes, there's a lot of pork in the mix (along with beef heart, tongue and others you won't find at your strip-center sandwich chain). Sometimes there's a veggie option, such as the Audrey and Clara, with grilled kale and pickled turnip serving as anchors.
Drinks are limited to bottled water; slow-pressed Dark Matter coffee; and funky, pricy soda pop. Desserts seem to appear on a whim, with such items as Cheesecake with Macerated Mission Cherries or a Chocolate Blackberry Torte in recent mixes.
Making things even better is the personal feel of the place, from the jovial explanation of dishes by the counter server to the cheerful, "I really want you to like this" vibe being sent from the chef.
There's a joy to the food that's intangible but palpable, and I enjoyed my meals there even more because of it.•
—Lou Harry
Please enable JavaScript to view this content.