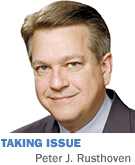 President Obama's nuclear deal with Iran has steadily lost support. In mid-July, Americans opposed it 45 percent to 33 percent. The disapproval margin now is 49 to 21. Independents disapprove 47 percent to 20 percent. Even among Democrats, approval has dropped from 50 percent to 42 percent.
The only place support has grown is the only place that counts—among Senate Democrats. Indiana's Joe Donnelly is now one of 42 senators who will vote for the deal. Four Democrats, including the party's next floor leader, oppose it. So does every Senate Republican.
With enough senators on board to sustain Obama's veto of a disapproval resolution, the only question is whether 41 of the 42 supporters will also block an up-down vote on one of the most critical foreign policy agreements in a generation. Donnelly hasn't said if he'll filibuster.
Either way, the president will prevail on his Iran agreement. This is disturbing on the merits of the deal itself, which "legitimizes Iran's nuclear program" and, in 10 to 15 years, lets it "produce enough enriched fuel for a nuclear weapon in a short time." It also gives the world's biggest terrorism sponsor "frighteningly quick relief from sanctions," even as it "foments regional instability, advocates for Israel's destruction, kills the innocent and shouts 'Death to America.'"
The critic just quoted is Sen. Ben Cardin, ranking Democrat on the Foreign Relations Committee.
But beyond the flaws of the agreement itself, the Iran deal is the foreign policy counterpart of the Affordable Care Act—a policy change of historic significance, pushed through by President Obama in the face of major public opposition, and with no bipartisan congressional support whatever.
There is no precedent for this, in either foreign or domestic affairs. Even major American foreign policy agreement has had significant backing among legislators of both parties.
The same is true of domestic policy watersheds. Republicans backed FDR's Social Security Act 81-15 in the House, and 16-5 in the Senate. Eighty percent of House and Senate Republicans voted for the 1964 Civil Rights Act. A majority of House Republicans supported adoption of Medicare and Medicaid, as did more than 40 percent of Republican senators.
Past presidents worked to secure opposing party support for key foreign and domestic initiatives, bringing opposition leadership into the process and being willing to compromise to achieve at least some level of consensus. Lyndon Johnson was wise enough to do so despite enjoying huge Democratic majorities in both chambers that would have enabled him to push things through on purely partisan votes.
Our current president thinks his own wisdom transcends such considerations. One consequence is that the candidate who pledged to transcend partisan divisions has become among the most divisive leaders in our history. We are now more divided along partisan lines, and more bitterly so, than at any point in living memory.
We are also more pessimistic. In early 2009, Americans believed the country was on the "right track" by 48 percent to 44 percent. Response to that standard poll inquiry today is "wrong track" by an astounding 66-to-27 margin.
A week before the 1980 election, Ronald Reagan asked, "Are you better off today than you were four years ago?" Ask yourself a slightly different question now, about a year before the 2016 election: Do you think the country is better off today than when Obama took office?•
__________
Rusthoven, an Indianapolis attorney and graduate of Harvard College and Harvard Law School, was associate counsel to President Reagan. Send comments on this column to ibjedit@ibj.com.
Please enable JavaScript to view this content.