Steve Hilbert is back in the insurance business.

Hilbert
The controversial co-founder and former CEO of life insurance giant Conseco Inc. (now CNO Financial Group Inc.) spearheaded the purchase of a small life insurance company operated out of Texas and plans to gradually build up its operations here.

Hilbert and his wife, Tomisue, joined with seven other investors to pay $7.2 million for Sterling Investors Life Insurance Co., according to documents filed with the Indiana Department of Insurance before it approved the official move of the company to Indiana.

Sterling Investors, which had been legally based in Georgia, had $19 million in assets as of June 30 and turned a profit last year of $420,000, according to documents filed with the Georgia Office of Insurance.

But Hilbert, 69, touts the fact that Sterling Investors is already approved to sell in 46 states. His plan is to pitch Sterling Investors to independent marketing organizations who can then carry the company's products around the country.

"Our goal is to make a small company into a medium-sized company and create good-paying jobs here in Indiana," said Hilbert, who is now chairman and CEO of Sterling Investors.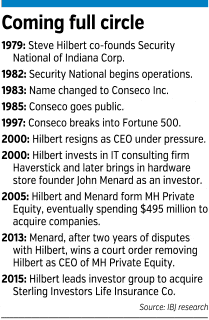 Hilbert co-founded Conseco in 1979 and raised the capital for the company via door-to-door sales around Indiana. The company started operations in 1982 and three years later went public. From then until Hilbert's forced resignation in April 2000, the company's assets skyrocketed from $102 million to more than $52 billion. Its workforce ballooned to 17,000.

Hilbert's undoing at Conseco was the March 1998 agreement to purchase Green Tree Financial Corp., a Minnesota-based consumer finance company, which started seeing heavy losses in late 1998. Hilbert's successors at Conseco blamed that acquisition, as well as poor integration of the firms Conseco acquired, for the company's entering bankruptcy reorganization in 2002. Hilbert, however, always maintained that Conseco's fatal mistakes with Green Tree came after he left.

"The one thing I committed to everybody is, we're not going buy a finance company," Hilbert said with a hearty chuckle. "You can be absolutely certain."

Hilbert described Sterling Investors as the "first buy" by the investor group he's leading, which includes William Stone, CEO of Hartford-based SS&C Technologies, a maker of software for the financial services industry. Hilbert said the group would certainly look for acquisition possibilities, but that it is primarily focused on organic growth.

"We're excited about selling life and annuity products," he said, "one policy at time."

Greg Hahn, a former chief investment officer at Conseco, said he expects Hilbert will succeed again. Hahn recalled evaluating roughly 120 companies alongside Hilbert during their days together at Conseco.

"You always bet with Steve," said Hahn, who is now chief investment officer of Indianapolis-based Winthrop Capital Management. "He's just a solid businessman."

Hilbert's timing appears on target this time. The corporate bond market—where life insurance companies invest much of the money they receive from their policyholders—only recently resumed paying interest rates high enough to allow life insurance companies to cover their expenses and make a profit, Hahn said.

Fixed annuities—which are a form of life insurance—typically guarantee yearly payouts to retirees of at least 3 percent of the value of the policy. So life insurers need to make more than 3 percent on their investments to have a chance of paying their expenses and turning a profit.

"Life and annuity is mostly a spread business. You're trying to earn a spread off your securities," Hahn said. "Until April 2014, the spread between corporate bond yields and the guaranteed rates on annuities was just not large enough to make it viable for life insurance companies."

Hilbert started looking to buy a life insurance company in early 2014. The year before, he had lost control of a portfolio of businesses he and Tomisue managed for MH Private Equity, a $600 million investment fund Hilbert had co-founded in 2005 with hardware store founder John Menard.

But Menard and Hilbert had a falling-out in 2011 that ultimately led to a series of court battles between the two. Menard accused Hilbert of mismanaging the companies. Tomisue Hilbert said Menard pressured her to have sex with him and his wife and, when she refused, he retaliated via the lawsuits.

Two major lawsuits are ongoing in Eau Claire, Wisconsin—where Menard Inc. is based—and in Noblesville.

Scott Matthews, the former general counsel at New Sunshine LLC—one of the companies owned by MH Private Equity—will serve as general counsel of Sterling Investors.

Hilbert signaled he wants to reassemble some of his team from earlier days. For example, Jim Adams, who was Conseco's treasurer, is on board as Sterling Investors vice president of finance.

"As we grow, those will be my first people to go to," Hilbert said, noting that Sterling Investors will outsource most of its work until it has enough scale to hire its own people. Under its previous owner, Texas-based Puritan Life Insurance, Sterling Investors had only six employees.

Hilbert even expects to rely on his contacts among insurance salespeople to launch Sterling Investors into the market.

"The people that were there [as insurance marketers] are generally the people that are still there," Hilbert said.

As he did at Conseco, Hilbert plans to aim Sterling Investors at "middle-market" customers—an area that most of the biggest names in life insurance are not focused on.

"We're not going to be selling million-dollar policies. We're going to be selling to middle Americans. That's always been my view of things," he said.

Hilbert said he's excited about trying to grow another company, rather than move into retirement.

"Some folks play golf or fish. I'm not into any of that," Hilbert said. "This is what I love to do."•