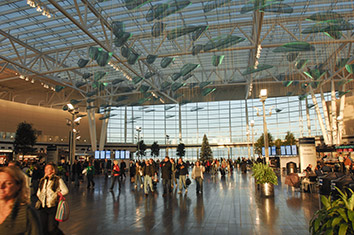 More nonstop flights from the Indianapolis International Airport will soon bring travelers to a popular East Coast destination: New York City.
The Indianapolis Airport Authority announced Tuesday that American Airlines will in January start offering three new weekday nonstop flights from the Indianapolis to LaGuardia Airport.
Already, American offers flights to Kennedy International Airport. Southwest, Delta and United offer non-stop flights to the New York area using Kennedy, Newark Liberty or LaGuardia airports.
American will also be offering three return flights from LaGuardia on weekdays and additional flights will be offered on the weekends.
Customers can book tickets for the new flights now, but the service won't start until Jan. 5, 2016.
The airport, which offers nonstop flights to 42 destinations, said in a statement it was excited to offer more flights to one of the city's "top business and leisure destinations."
"The strength of our central Indiana economy positions airlines to offer more options for travelers out of (the airport) and the Indianapolis Airport Authority constantly seeks new choices to meet our customers' needs," said Mario Rodriguez, executive director of the airport authority, in a written statement.
The airline's new weekday nonstop flights will leave Indianapolis at 7:15 a.m., 11:50 a.m. and 5:10 p.m. Return flights will leave New York at 9:10 a.m., 2:30 p.m. and 7:55 p.m. The airline will also offer flights on weekends to and from New York.
Please enable JavaScript to view this content.