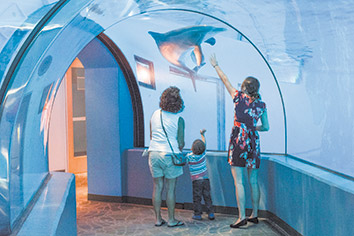 The Indianapolis Zoo's landlocked grounds on the west side of downtown prevent it from expanding exhibits or adding new ones.
But leaders of the popular attraction think they have found a solution—by joining the ownership group that wants to build an outdoor concert venue on the former General Motors stamping plant site across West Washington Street.
The zoo is part of an agreement locally based REI Investments Inc. reached late last month to buy part of the stamping plant property, the entity charged with selling the site told IBJ.
Under the agreement, REI will team with White River State Park, Live Nation and the zoo to develop a $30 million, 10,000-seat amphitheater on the eastern portion of the site.

Wells
The zoo will provide some financial assistance for the initial planning of the development, said Mike Wells, REI president and a zoo board member. In exchange, the zoo will have access to the concert venue's surface lot for overflow parking on its busiest days.
Long term, though, the deal finally gives the zoo a chance to expand its exhibits by building on part of its current surface lot. Parking eats up 13 of the zoo's 64 acres, more than one-fifth of its land.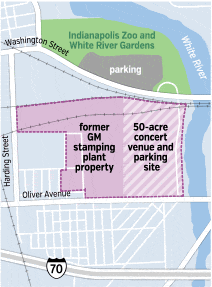 "That expansion can get more folks here and advance our mission of animal conservation and serving the west side," zoo spokeswoman Judy Palermo said.
The zoo relies on private funds and receives no taxpayer support. It has no specific expansion plans but is considering several options that Palermo declined to divulge.
"Everything's on the table," she said. "Every time we work on an exhibit, we think, 'What are the most endangered species out there right now?'"
Skyrocketing attendance is driving the zoo's plans to add parking. On its busiest weekends, the zoo sometimes shuttles visitors from IUPUI parking lots, Palermo said.
It set an attendance record last year by drawing nearly 1.25 million visitors, thanks in large part to the May 2014 opening of the Simon Skjodt International Orangutan Center.
The $26 million center provides a state-of-the-art home to eight of the world's most endangered primates.
Such elaborate exhibits require many years of planning, Palermo said, so "there's really no way to put a timetable, or exact details, on what type of expansion we would have."
Attendance received a further lift this year from the zoo's hosting two Queensland koalas May 23 to Sept. 7.
The zoo opened in 1964 as a children's zoo in George Washington Park on the city's east side. The relocation and expansion to White River State Park in 1988 cost $64 million.
Back on the market
South of the zoo, REI has agreed to buy 51-1/2 acres of the 102-acre former stamping plant site. It originally planned to buy 35 acres, Wells said.
The reason for the increase: The concert venue will demand its own parking lot now instead of sharing with the criminal justice center that would have been built on the west side of the stamping plant site. The City-County Council in June voted against considering a scaled-down plan for a $390.5 million center.
A confidentiality agreement prohibits Wells from divulging the purchase price, he said. REI had agreed in August 2014 to buy the entire property for about $80,000 an acre, or $8.2 million, real estate sources said. REI then gave the city an option to acquire 55 acres.
Rasher
The entity selling the site, Michigan-based Revitalizing Auto Communities Environmental Response Trust, now must find another buyer for the western half. It plans to solicit proposals much like it did the first time, in 2013, said Bruce Rasher, RACER's development manager.
"What is different is that the market, between now and then, has improved dramatically, so we are getting more interest in the property," he said. "We expect a large number of proposals."
When RACER began marketing the entire site two years ago, it drew interest from a host of local developers, including Ambrose Property Group, Buckingham Cos. and Keystone Group. Proposals ranged from mixed-use developments with office, residential and retail to Keystone's plans for a soccer stadium where the Indy Eleven would play.
RACER likely won't select a buyer until late spring or early summer, Rasher said, to give the city's next administration an opportunity to weigh in on best uses for the property.
Many in the local real estate community didn't support the city's plan to build a criminal justice center on the site and think it demands more than a concert venue.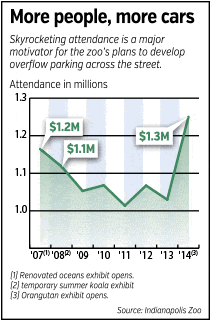 "We've got 100 acres in downtown Indianapolis that's really a gateway to that section of downtown, and I think we're missing the boat by looking at bifurcating it in any way," Amy Burmeister, a multifamily broker at Summit Realty Group, said at IBJ's Sept. 10 Commercial Real Estate and Construction breakfast.
Hurdles to clear
The concert venue would be developed by REI, owned by White River State Park and operated by Los Angeles-based Live Nation, which also operates Klipsch Music Center in Noblesville.
IBJ early this year was first to report that REI was nearing a deal with White River State Park to build an amphitheater that would replace The Farm Bureau Insurance Lawn. The Lawn, operated by Live Nation, uses temporary staging and provides temporary seating for about 5,000.
White River State Park likely will seek financial backing for the project from the General Assembly next spring. Construction could begin next summer, with the venue opening in 2017.
But Wells at REI acknowledged the proposal is far from being a done deal.
"There are a lot of hurdles that have to be cleared," he said. "The biggest one is White River getting an allocation to pull this off."
From a city tourism perspective, Visit Indy hopes it will happen, spokesman Chris Gahl said.
"We know from our most recent research that [White River State Park] is a main attraction for visitors wanting to come to the city, he said. "We also know that the zoo has the ability to grow its attendance but cannot do that in a meaningful way without adding exhibition space and parking, so this would be a natural fit."•
Please enable JavaScript to view this content.