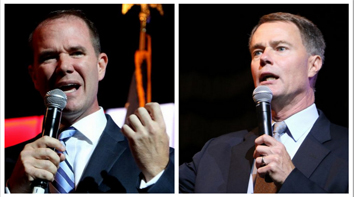 Advertisements released days apart in the Indianapolis mayor's race reveal exactly where the candidates stand: Democrat Joe Hogsett is the well-funded front-runner while Republican Chuck Brewer is prudently picking his spots.
Hogsett's new commercial is his eighth, underscoring the vast fundraising advantage he has over the underdog Brewer—a little-known political novice who hasn't even made his first television buy with less than seven weeks until Election Day on Nov. 3.
Hogsett's new ad is a confident, lighthearted 30-second spot that shows the Democrat mowing his lawn, while his wife, Stephanie, good-naturedly makes fun of him for being so frugal.
The gist: You've probably heard of Joe, says his wife, but you'd realize just how serious he is about cutting government spending as mayor if you could smell his 40-year-old basketball shoes that he's too stingy to replace.
"We thought this would be a really good change of pace to give them the personal side of Joe Hogsett," said Thomas Cook, his campaign manager. "I think it will stand out."
Chuck Brewer's ad—the first of his campaign and promoted so far only online, not on TV—is much more biographical, focusing on his military background and identity as a business leader.
It's more or less an introduction to a candidate voters are much less likely to have heard of, given that Brewer moved to the city about five years ago and Hogsett has been a longtime player in the state's political landscape.
"Chuck has been an underdog in this race since the beginning," said his campaign manager, Jennifer Hallowell. "The ad is designed to give voters more information about Chuck's background and how that shapes his perspective on the city and his priorities."
Brewer's ad is scheduled to go on TV later this week. The campaign is finalizing those details now, Hallowell said.
A key difference in the campaigns is how much they have to spend on advertising—and where they're planning to spend the money.
Hogsett has significantly outraised and outspent Brewer's campaign. Hogsett had $2.1 million in cash on hand as of the latest filing deadline on April 10 compared to Brewer's $657,000.
Hogsett has spent more than $400,000 on TV ads with local stations just this month. His campaign started advertising on TV in early June. Before Brewer's ad goes on the air later this week, he'll have reported spending no money yet on TV advertising.
Cook said running ads early in the process shored up Hogsett's already strong advantage in name recognition. But he said the money was carefully spent.
"A lot of people knew who Joe Hogsett was in a very narrow sense," Cook said. "I think the reason we've been successful has more to do with not spending money (in the wrong places) than raising it."
Cook said Hogsett's campaign isn't finished releasing new ads—and will launch radio ads within the next week.
Meanwhile, advertising activity at Brewer's campaign seems to be ramping up.
Hallowell said Brewer's campaign has already started mounting an aggressive social media blitz by specifically targeting whom his ad reaches on websites including Facebook and Twitter, which allow customers to pay to have content delivered to specific segments of people.
She said the campaign has been trying to conserve money and spend it when it counts.
"Voters tend to make their decisions very late in the election cycle," Hallowell said. "We have to be smart with our resources and communicate the right message at the right time. We're right in line with that."
Please enable JavaScript to view this content.