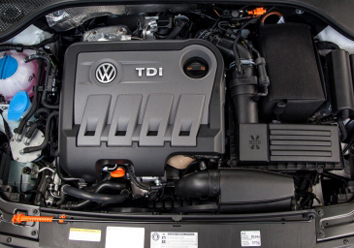 A majority of U.S. states, including Indiana, have begun a joint investigation of Volkswagen AG in the widening fallout from the company's admission that 11 million of its diesel vehicles use software to cheat emissions tests.
The 27 states will send subpoenas to the company, said Eileen Boyce, a spokeswoman for Illinois Attorney General Lisa Madigan. The states will pursue the investigation under consumer-protection and environmental laws, according to several attorneys general. New York's attorney general previously said he was investigating Volkswagen.
"This investigation will determine whether deceptive trade practices were used to convince consumers that their cars were environmentally friendly, when they weren't," Texas Attorney General Ken Paxton said in a written statement.
The investigation was spurred by the U.S. Environmental Protection Agency's announcement Sept. 18 that Volkswagen installed deceptive software to make vehicles appear as if they passed emissions tests. The EPA said the company admitted it used "defeat device" software to sway emissions tests.
While the vehicles complied with EPA and the California Air Resources Board standards in tests, the software switched off emissions controls on the road to improve performance, generating pollution at levels as much as 40 times the limit. The EPA estimates that 482,000 of the vehicles are in the U.S.
Since then, Volkswagen CEO Martin Winterkorn resigned and shares have plummeted 31 percent.
The U.S. Justice Department is also investigating, "working closely with the EPA," spokesman Wyn Hornbuckle said in an e-mail Thursday. "We take these allegations, and their potential implications for public health and air pollution in the U.S., very seriously."
Kristin Ford, a spokeswoman for California Attorney General Kamala Harris, said she "can't comment on ongoing investigations to protect the integrity of those investigations."
The states will examine ways to compensate vehicle owners and protect against future environmental harm, Maryland Attorney General Brian E. Frosh said in an e-mailed statement Thursday. "I am furious that the world's leading car company willfully took steps that polluted our environment and deceived consumers," he said.
Jeannine Ginivan, a Volkswagen spokeswoman, didn't immediately return a call and e-mail seeking comment.
Volkswagen also faces at least 60 lawsuits filed in federal courts by consumers alleging the company committed fraud by cheating on emissions tests, inducing them to pay more for their vehicles. The lawsuits were filed as class actions representing all consumers in the U.S. or individual states who leased or bought the vehicles.
Boyce said the participating attorneys general include: Alabama, Arizona, California, Connecticut, Delaware, Florida, Illinois, Indiana, Iowa, Kentucky, Maine, Maryland, Michigan, Mississippi, Nebraska, Nevada, New Mexico, New York, North Carolina, Oklahoma, Oregon, Pennsylvania, Rhode Island, Tennessee, Texas, Vermont and Virginia. The attorney general for Washington, D.C., is also included in the group, she said.
Please enable JavaScript to view this content.