Two local not-for-profits have partnered to buy a vacant apartment building on the near-north side with plans to invest $2 million in its renovation.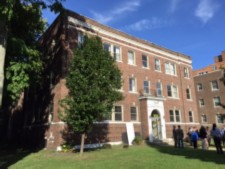 Near North Development Corp. and Partners in Housing Development Corp. last month purchased the three-story building at 3630 N. Meridian St. for $150,000 from a private owner in California.
Construction is expected to begin in January with completion slated for July. When finished, the Glenmoor will provide 24 affordable housing units at monthly rental rates between $550 and $600.
"The location is great," said Phil Smith, Partner in Housing's executive director. "It's an area that the city is emphasizing for growth and development."
The Glenmoor, previously known as Glendower Apartments under the previous owner, became available after a Marion County judge declared it a health hazard in November 2014. The judge determined the landlord had failed to provide heat and hot water, and ordered the building vacated.
The city worked with the lender to forgive $350,000 in bank debt and fines. The city and Federal Home Loan Bank of Indianapolis are providing $1.5 million in grants to help finance the renovation.
Renovations will include new electrical, plumbing, heating and cooling systems, new kitchens and baths, a major interior refinish and exterior landscaping improvements.
Purchasing the building seemed like a logical next step for Near North. The organization in early 2013, along with North Meridian Community Partners, bought the Oxmoor Apartments directly to the north and invested $1.4 million in its renovation. Both were built in the 1920s and look identical from the outside.
A massive fire in 2010 destroyed much of the Oxmoor.
 
Please enable JavaScript to view this content.