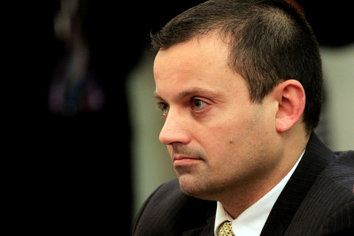 State Rep. Jud McMillin said Wednesday in a Facebook post that he has received both an outpouring of support and hatred after he announced he would resign from the Indiana House, a move that came after a sexually explicit video was discovered on his phone.
"I make mistakes," McMillin, R-Brookville, said. "When I do, regardless of how big or small they are, I do my best to admit them, own up to it, and then start doing my best to remedy them."
House Republicans elected McMillin to the chamber's second-highest post last year, putting him in an ideal spot to seek the chamber's top spot down the road. But McMillin announced Tuesday that he was resigning to spend more time with his family.
Later, IBJ learned that the move came after someone discovered a video on McMillin's phone that showed him involved in sexual conduct. McMillin had earlier sent a message alerting his contacts that his phone had been stolen and to disregard any messages they had recently received from him. "I am truly sorry for anything offensive you may have received," the text said.
The news led to a number of tweets and Facebook posts about his actions. On Wednesday, McMillin said on Facebook that "I will never understand the need for some people to spew hatred."
"I hope it makes those people feel better about themselves because there is no other discernable benefit," he said. "What a sad place for society to be."
However, he added that he is "constantly amazed at how good hearted so many people are."
 "The outpouring of support I have received from so many gives me faith and hope in humanity as a whole." 
Please enable JavaScript to view this content.