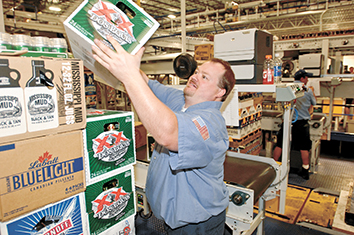 Indiana's largest beer distributor has lost a legal battle in its effort to sell liquor in addition to beer and wine.
Indianapolis-based Monarch Beverage Co. Inc. filed suit against officials of the Indiana Alcohol and Tobacco Commission in federal court in October 2013, arguing the company should be granted the right to also supply liquor to bars, restaurants and retail outlets.
The Indiana Beverage Alliance and the Wine & Spirits Distributors of Indiana supported the Alcohol and Tobacco Commission in the case.
State law prohibits alcohol wholesalers from supplying both beer and liquor, forcing them to choose between the two. Monarch's suit argued Indiana's restrictive alcohol laws violate parts of the U.S. Constitution.
On Wednesday, U.S. District Court Judge Sarah Evans Barker ruled against Monarch's claim. Indiana's codes regarding alcohol distribution might not appear rational to all parties, Barker wrote in her ruling, but that doesn't mean they violate the Equal Protection Clause of the Fourteenth Amendment.
Barker said Monarch failed to prove it was being treated differently than any other beer distributor in the state, a requirement for an equal protection challenge.
According to the court papers, Monarch distributes wine in all 92 counties in Indiana and beer in 89 Indiana counties.
Among other products, Monarch distributes wine made by E & J Gallo Winery, which also manufactures liquor products.
Monarch wanted to distribute the liquor products but was prohibited by Indiana code.
The company's lawsuit argued the code's prohibition against a wholesaler's possession of both a beer and liquor wholesale permit was unfair and wasn't rationally related to a legitimate government interest.
Barker said such an argument could carry weight if Monarch was arguing for a new law, but didn't apply in an equal protection case.
"Ours is not to determine the best way to regulate an industry or to judge the wisdom or logic of legislative choices," she wrote. In addition, "Monarch's arguments, while perhaps reflecting sound legislative policy, do not represent sound judicial analysis."
The court setback isn't likely to end the Monarch's fight to sell liquor products. The company has been lobbying for changes to Indiana's laws for years and also tried to obtain a liquor wholesaler's permit for a related entity.
Monarch tried unsuccessfully during the prior four state legislative sessions to advance a bill supporting its position before resorting to federal court.
Please enable JavaScript to view this content.