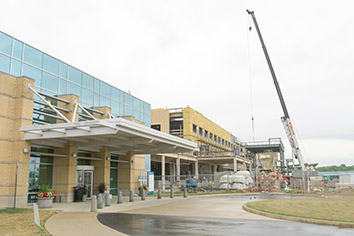 After a long dry spell, hospital systems are back to building.
The past year has seen a flurry of new project announcements in central Indiana and around the state as hospitals have finally become more certain about the future under Obamacare.
What has become clear is that health care providers won't be able to attract patients tomorrow with facilities from yesterday. So they are scrambling to erect new structures that are more convenient—both in their location and in their combination of services.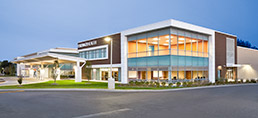 Eskenazi Health's primary care center on West 38th Street serves as a model for health care facilities of the future. It offers the services of a hospital, except for surgeries and inpatient care. (Photo courtesy of Eskenazi Health)
Such convenience is more important than ever to capture the growing number of patients who have insurance but who also control more of their health care spending than they have in decades.
Local experts point to Eskenazi Health's primary center on West 38th Street, which opened two years ago, as the model for the new kinds of health care facilities that hospital systems are looking to build. The $20 million, 70,000-square-foot facility includes all services that could be found in a hospital—except for surgeries and beds for overnight stays. Offerings include pediatrics, prenatal care, wellness programs, physical therapy, imaging and other diagnostic testing services.
"We found that the single biggest hotspot for people without otherwise a primary care provider was West 38th Street. And so that's why we took an old Circuit City and we rehabbed it and created a green building out there, and it's been our busiest center from the moment we opened it," Matt Gutwein, CEO of
Health & Hospital Corp. of Marion County, the parent of Eskenazi Health, said during the IBJ Health Care Power Breakfast on Sept. 24.
St. Vincent Health did something similar last year with the $20 million women's center it opened on the campus of its Carmel hospital.
"That was really built in response to the community needs and the information and requests that we were getting from the community to provide a system of care for women that covered all aspects, not only [obstetrics and] gynecology but specialist care as well, and provided all of those services in one location," Cheryl Harmon, St. Vincent's chief financial officer, said during the breakfast panel discussion.
Lots of hospital systems are following the lead of Eskenazi and St. Vincent now that most of the elements of the Affordable Care Act, passed in 2010, have phased in.
"There was for quite some time lack of clarity into what was happening around the Affordable Care Act. So people were very cautious in expending capital, just really trying to figure out how the whole model was going to work," said Keith Konkoli, executive vice president of health care at Indianapolis-based developer Duke Realty Corp. But now, he said, "All the players are getting a much clearer picture, so they are executing on the strategies that they've been working on the last few years."
Primed to build
That shift can be seen in the value of construction projects in the pipeline.
There are $900 million in health care projects in Indiana either started or soon to start, according to statistics tracked by Revista, a Maryland-based market research company specializing in health care. That's up from $500 million last year.
A similar trend is playing out around the Midwest and around the country. Health care construction starts in Indiana and its five closest neighbors—Illinois, Kentucky, Michigan, Ohio and Wisconsin—have risen from $4.1 billion last year to an expected $5.8 billion this year, according to Revista.
Nationwide, the value of activity has risen from $23.5 billion last year to $30.5 billion this year.
Those levels are the highest the industry has seen since 2008, said Mike Hargrave, principal at Revista.
"Really, the recession choked off a lot of construction, starting in late 2008. Projects weren't able to get financed. And it really only started showing signs of life in '12-'13," Hargrave said. "It rose again in '14 and it's really risen in '15."
The new wave of projects generally has fewer inpatient beds, a reflection of the 40-year decline in the number of patients spending the night in hospitals. The trend is driven by advances in non-invasive surgeries, changes in health care financing and increasingly price-sensitive patients.
For example, the new, $89 million Major Hospital in Shelbyville, under construction along Interstate 74, has just 56 inpatient beds, down from 74 at the current facility, which is 35 years old.
Major announced its project a year ago. That same month, Community Health Network said it would spend $175 million to renovate and expand its nearly 60-year-old Community Hospital East.
This year Community revised its plans, saying it would instead spend the same amount to construct a new hospital on its East campus. Community also plans to spend $60 million to expand its cancer facilities on its North hospital campus in Castleton.
"We need a totally different facility than the one that's there right now," Community CEO Bryan Mills said of the East campus. "We have many tens of thousands of square feet that's just there [and unused], then an ER that's vastly overused. It's the wrong kind of space."
Starting fresh

Similarly, leaders of the Indiana University Health hospital system concluded it was not feasible to build a new facility on their current location in Bloomington. So in April, IU Health leaders committed to build a new hospital near the Indiana University campus in the next four or five years, estimating the cost in the hundreds of millions of dollars.
That same month, IU Health unveiled a $1 billion plan to consolidate its University Hospital operations onto its Methodist Hospital campus, and to move all women and child care from Methodist to Riley Hospital for Children. That plan will take five to seven years to be completed.
IU Health decided to consolidate its downtown Indianapolis hospitals because the number of inpatients who need overnight stays has continued to fall. But it couldn't merely close one hospital, because the aging facilities are not well-suited to today's medical needs and patient demands.
In May, Hendricks Regional Health announced it would spend $40 million to build a 100,000-square-foot emergency room, urgent care and outpatient center on the north side of Brownsburg by early 2017. The new facility will include women's health services, a retail pharmacy, imaging and lab services, as well as a cafe and other complementary retail.
And Riverview Health is mulling changes to its main hospital campus in Noblesville.
Elsewhere in the state, Beacon Health Systems is spending $50 million to build a children's hospital in South Bend. And Parkview Health is spending $55 million to upgrade its 62-year-old campus in Fort Wayne. Parkview also has committed to build a new $35 million hospital in Wabash County after acquiring that small hospital last year.
"There's probably more square footage than what's needed on many of the acute care campuses. So there's been some consolidation going on," said Monte Hoover, an architect and health care planner at Indianapolis-based BSA LifeStructures. He cited the IU Health's moves in Indianapolis as an example. He added, "What goes along with that is trying to replace some of the aging buildings." •
Please enable JavaScript to view this content.