Indianapolis Public Schools' plan to sell the 11-acre former Coca-Cola bottling plant site at Massachusetts and College avenues has revived talk that Target would finally open a downtown store.
A real estate source told IBJ that Wisconsin-based Hendricks Commercial Properties, one of at least four parties that submitted responses to a request for qualifications issued by IPS, hoped to lure a Target to the site. However, after the print version of this story came out, a Hendricks official flatly denied that was the case.
IPS would not provide any information on the proposals it received by the Aug. 27 deadline, citing language in state law that the school district contends permits it to keep the submissions under wraps while it negotiates with developers. The school district earlier this year decided to sell the property and move the bus-maintenance operations now housed there.
However, sources familiar with the plans said another developer, TWG Development LLC, submitted a proposal showing a Fresh Thyme grocery as an anchor.

Details are less clear on plans from Milhaus Development LLC and the team of Browning Investments Inc. and Flaherty & Collins Properties, which also are vying to redevelop the land.

Representatives of the four teams either didn't return phone calls or declined to comment on their proposals.

Observers say all the developers likely included a housing component and also likely incorporated the former bottling plant, an art-deco landmark built in 1931 by the local architectural firm Rubush & Hunter, into their plans.

The 285,000-square-foot, two-story building sits within the Chatham Arch & Massachusetts Avenue Historic District. Any changes to its exterior would require approval from the Indianapolis Historic Preservation Commission.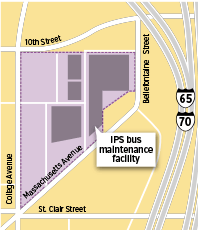 Target's ambitions

Minneapolis-based Target provided scheduled store openings to IBJ—which listed no new stores for Indianapolis—and said it had "nothing else to share at this time." A local broker representing the retailer did not return calls.

The department store chain has 11 stores in the area, with the closest in the Glendale area on Keystone Avenue.

Bill French, a retail broker in the local office of Cushman & Wakefield, formerly DTZ, said the swelling downtown population, driven by an unprecedented wave of apartment construction, makes the prospect of a downtown Target better than ever.

"If there's going to be a big-box like Target in downtown, it's probably going to be in one of two locations—Circle Centre or the Coca-Cola location," he said. "It's a logical spot because of the fair amount of ground, and there will be an adequate amount of parking."

Talk that Target would secure a downtown site has swirled for at least a decade. A development team in 2007 pitched a Target as part of a $150 million condo project for the former Market Square Arena site, but plans to develop the property stalled with the Great Recession.

More recently, Target looked at former Nordstrom space in Circle Centre mall and considered anchoring a development on a part of the MSA site where Cummins Inc. now is building its $30 million global distribution business headquarters.

"There is a local push to attract a Target to downtown, so some of the developers are hoping to seek a buy-in from Target," said Bob Schultz, spokesman for the not-for-profit Downtown Indy.

A Fresh Thyme, meanwhile, would add to the growing list of downtown grocery options, which for years consisted solely of the Marsh store in the Lockerbie Marketplace that opened in 1986 as an O'Malia's. Marsh bought the O'Malia's chain in 2001.

Marsh opened another store in May 2014, as part of Flaherty & Collins' Axis at Block 400 mixed-use development that's bounded by Michigan Street, Capitol Avenue, Vermont Street and Indiana Avenue.

In addition, a Whole Foods is set to anchor Flaherty's 360 Market Square project, which is adjacent to the Cummins headquarters.

City assistance

Any project built on the IPS site near Mass and College avenues also would include apartments, office space or perhaps even a hotel, according to sources familiar with the proposals.

But real estate experts said it would be difficult for IPS to unload the property by the end of the year—the tight time frame it has set. That's because of the prickly issues associated with redeveloping a historic building and remediating possible environmental concerns. Construction of underground parking, which would wipe out the need for an unsightly sea of surface spots, also would push up development costs.

The obstacles could cause a developer to seek a city subsidy—likely from the downtown tax-increment financing district, which, thanks to a 2012 expansion, includes the bottling plant property.

Getting the city to commit funds, in such a short time, and with a change in administration coming, would be difficult, real estate sources said.

Collins
Adam Collins, the deputy mayor of economic development, seemed to agree.

"We have a few things that we're working on that we want to see finished," he said. "It'd be my guess that it's probably a project that's going to bleed over into the next administration. Somebody else is going to have to evaluate that project."

The city is not involved in IPS' bid to sell the property and has no knowledge of the proposals, Collins said.
Adamson
Still, Democratic Councilor Zach Adamson, who typically does not favor contributing public funds to private projects, said he might make an exception in this case. If Adamson wins re-election, his new district, due to a redistricting, would include the IPS property.

"I'm usually not in favor of supporting these types of projects," he said. "That being said, there are a lot of things to consider—[the bus garage] is a horrible use for an amazing space. Without public investment, it will not happen."

The IPS property became expendable after the district decided to consolidate downtown bus operations with facilities on the east and west sides, in addition to using contractors.

Developers are set to begin presenting their proposals to IPS on Oct. 7.•