The parade of new hamburger joints continues without an end in sight. Recently, I offered comments on the Chicago export Kuma's Corner and B-Spot (see reviews at ibj.com/arts), each offering its own take on the ever-popular ground-cow sandwich. Am I burned out? Far from it… as long as the quality stays high.

Flamme Burger (8594 E. 116th St., Fishers, 983-0552) spent only a brief time as the latest burger bearer here (it quickly lost that title to Smashburger). Flamme stands out because it's a stand-alone place, locally created.

Its big selling point is mighty fine Angus burgers, grilled in a wood-fired oven. Substantial without being dare-you overwhelming, these burgers are edible without a fork and housed in your choice of a brioche, whole grain, gluten-free or pretzel bun.

The Flamme Burger ($9.95) features roasted Serrano peppers, Swiss cheese, crisscrossed slices of applewood bacon that extended well beyond the bun, and sriracha mayo to pull it together. Holistic and very satisfying, it's a good choice for Flamme's signature sandwich. More ambitious, the Surf n Turf Burger ($14.95) offered jumbo lump crab and grilled asparagus with a bearnaise sauce. I'm not always a fan when the land meats the sea on my plate, but this burger makes a convincing case for such crossover.

On the poultry side, we tried the Diavlo Chicken ($8.45), a grilled breast basted with hot sauce and topped with sliced Maytag blue cheese. For the non-meat-eaters, the Veggie Burger ($7.95) proved a fine example of the accommodating genre, with a lentil bean patty good enough on its own but well appointed with arugula, tomato, red onion and tahini. No complaints at all on the taste side.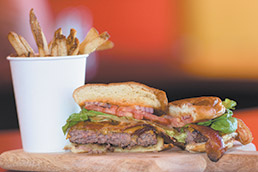 Bacon extends well beyond the bun on Flamme's signature burger. (IBJ photo/Eric Learned)
Speaking of side, actual sides are limited. For the record, we found the Fresh Hand Cut Fries ($2.95) preferable to the over-cheesed Truffle Parmesan Fries ($3.95), but that could be a rookie-month issue.

In addition to burgers, Flamme has salads, a handful of other sandwiches, and a short list of beer, wine and gelato shakes to wash those down. Our visit early in the run found the shakes not yet pouring—a shame since I was looking forward to the Salted Caramel or the Bananas Foster ($5.95).

A lack of appetizer options and an order-at-the-counter/delivered-to-your-table set-up makes dining here a relatively quick process—which isn't a problem if you work in Fishers or live nearby and have Flamme on your rotation list. That efficiency, though, combined with the prices, can make it less satisfying as a destination spot if you are venturing farther.•