For some, the idea of an escape room might call up images of a home theater or an enclosed porch overlooking a peaceful landscape, adult beverage at the ready.

Indianapolis' new Escape Room (above Old Spaghetti Factory at 200 S. Meridian St., 986-6542) is far from any of those two places.

How about a prison cell? A KGB interrogation room? A recently ransacked art gallery? In any of these, for $29 a person, you and your gang get locked up for an hour with only your wits, the items in the room and your puzzle-solving skills.

A craze in Europe and Asia (Escape Room owners Scott and Marjorie Neal first visited one while on vacation in Budapest), such sites are popping up all over the United States, with unaffiliated variations opening recently in Chicago, Louisville and Cincinnati. For an idea of what the experience is like—albeit a slick, competitive version with money at stake—check out "Race to Escape" on the Science Channel.

Before Escape Room's Oct. 2 opening, I accepted an invitation to gather a group to play-test a scenario. It quickly became apparent that the hour on site is only part of the experience. Like (I would imagine) planning a heist, part of the kick is deciding who is going to join you. Some rooms can accommodate up to 12 players at a time.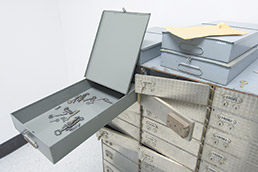 (IBJ photos/Eric Learned)
In my case, I recruited a pair of improvisation professionals, a puzzle master, a game geek and my son—not exactly "Ocean's Eleven," but a diverse, open-minded group I thought had a fair chance of solving our way to freedom without strangling one another.

Things looked promising early on. With the prison-cell door locked and an hour on the clock, each member of my gang set about trying to abstractly reason our way out of confinement. Locked boxes indicated there were keys to be found. Coded messages guided us to other clues and useful objects.

We did get out of the prison cell in about 25 minutes—but only to find ourselves in a maintenance room that had its own set of problems to solve. And that room wasn't our last stop.

I'm being careful in my descriptions because I don't want to spoil the game for future players by revealing any of its secrets. Besides, pre-opening, some of the details still needed a bit of ironing out. (A math-related puzzle ate up extra time, for instance, because of its being incorrectly written. We were assured it would be fixed by opening day.)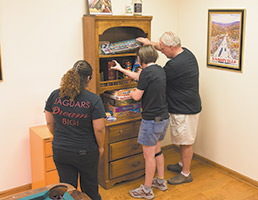 It all came down to an adrenaline-rushed hunt for a series of keys, the last of which we failed to find before our hour ran out.

Failure, though, was still very fun. The hour went by very quickly and our group worked well together (Escape Room is being pushed as a team-building activity, and I'm curious how it would play with a group that came in with underlying tension). Yes, the tasks could have led more clearly to one another, with less ambiguity about what to do. And our team unintentionally bypassed some clues, which would have led us backward if our facilitator hadn't told us we'd already solved a later puzzle. Again, here's hoping play-testing before opening will have ironed much of this out.

Overall, though, Escape Room proved a unique experience that I'd love to go through again. Where many video games mimic real-life activities, escape rooms make physical activities that you could previously do only in video games.

Anyone up for a bank heist?•

—Lou Harry