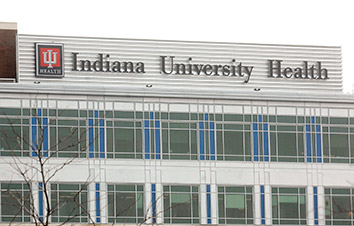 Five months after it expected to hold an election, the union trying to organize nurses at Indiana University Health's downtown hospitals doesn't even have a projected date for a vote.
The United Steelworkers union still is working to gain support among the more than 3,900 nurses at IU Health's Methodist, University and Riley hospitals. Nurses who support the union complained about low staffing levels that they think have hurt patient care, low pay, and a controversial attendance policy nurses said hindered them from receiving a raise if they had three unscheduled sick days a year.
But union representatives say they have been slowed by the "chilling effect" of IU Health's firing one nurse involved in the organizing, and disciplining a second.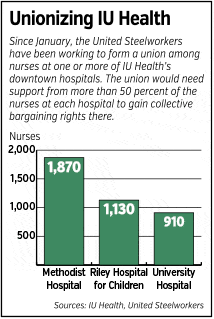 IU Health has since dropped the discipline of nurse Heather Bragg and agreed to pay lost wages and benefits to Lacie Little, the nurse who was fired. But the union says it has had a harder time getting nurses to sign cards since those actions.
"I'm nowhere near able to say," Maria Somma, organizing coordinator for the Pittsburgh-based Steelworkers, said when asked about an estimated date for a vote. Union officials originally said they would hold a vote in late April or May and later estimated a vote would occur in July.
The union wants two-thirds of nurses to sign cards before it will feel confident it can get a majority of votes in an election. Somma declined to say what percentage of nurses has signed cards so far.
"This employer has fought hard and heavy against these nurses," Somma added.
If the Steelworkers successfully unionize at an IU Health hospital, it would be a rare feat in Indiana. Other than the federally run Veterans Affairs Medical Center, no other hospitals have unionized nurses, according to the Indiana Hospital Association and the Indiana State Nurses Association.
Asked why the union has not yet achieved enough support, IU Health spokeswoman Lauren Cislak wrote in an email: "It's a process and there is nothing notable to comment on at this time."
She added: "IU Health believes that a union is not in the best interest of our nurses or patients, and desires to remain a non-union work environment."
In comments in June, Cislak said the union was "desperate to get support" because its workers and supporters had been making unannounced visits to other nurses' homes.
The clock is ticking for the Steelworkers. The signatures it has been obtaining from nurses since March are good for only a year. After that, the Steelworkers would have to get new signatures from each nurse.
It's unusual for organizing campaigns to stretch out this long, and difficult for unions to rekindle support, said Dennis Devaney, a labor attorney in Michigan who represents the McLaren Health Care hospital system, among other health care clients.
"It's hard to make a comeback, if you're doing really well and then lose momentum," he said.
The Steelworkers started working to form a union at IU Health about nine months ago after some nurses there invited the union to help them. The campaign average is two months, said Joseph Varga, a labor activist and labor-studies professor at Indiana University's Bloomington campus.
"It is relatively unusual for unions to ask for the delay, in my experience, but it does happen," Varga wrote in an email. "It is far more likely in most cases that the employer delays the election, allowing for more time to influence workers."
IU Health has made several moves that, if not a response to the union's grievances, have been aimed at shoring up morale.
For example, IU Health revised its attendance policy and gave a $2-per-hour raise to nurses with two years' experience.

Evans
In addition, in August, IU Health's top two executives—Dan Evans and Dennis Murphy—sent a surprising apologetic email in response to below-average employee satisfaction scores in a survey.
"Your feedback also told us we have not created the workplace we desire," wrote Evans and Murphy in their memo. "We sincerely regret this, and we are committed to restoring your confidence in senior leadership."

Murphy
The Steelworkers say other factors have slowed their efforts.
Little, the nurse who was fired and then started working for the Steelworkers, is on family leave after her wife, who is also an IU Health nurse, had the couple's second baby.
And the Steelworkers staff member who was leading the organizing, Randa Ruge, left the Steelworkers in July.
On top of that, a handful of nurses who were heavily involved in the organizing effort have left IU Health for new jobs, Somma said.
"Working conditions are so difficult for nurses, there is a very high turnover rate," she said. "Some of our strongest supporters have found work elsewhere because they just can't take it anymore."
Cislak denied that there has been abnormally high turnover among nurses at IU Health's three downtown hospitals. However, she noted that those hospitals have hired 900 nurses this year, partly to replace departing nurses but mostly to boost overall staffing levels.•
Please enable JavaScript to view this content.