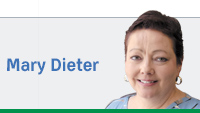 Those pushing to deny federal funding to Planned Parenthood say they are responding to a video that suggests the organization sells fetal tissue for profit.
They are lying. The video is a beard, strategically edited to falsely cast Planned Parenthood in the worst possible light and to arm the makers, who will say and do anything to impose their will on the rest of us in pursuit of their cynical goal: preventing women from deciding how to live healthy, productive and self-directed lives.
Not that a video is needed. Our own Gov. Mike Pence, as a congressman in 2011, merely used a slight of speech to advocate defunding Planned Parenthood, saying the public accepts legal abortions but doesn't want to pay for them.
That argument then and the brouhaha now are equally disingenuous. Except for cases of rape, incest or endangerment of the woman's life, not a dime of federal money has been used to perform abortions for nearly 40 years, ever since the self-righteous and since-disgraced U.S. Rep. Henry Hyde pushed for a ban.
That's why the motives behind this current mess are so transparent. This is just the latest attempt by those who think women cannot and should not think for themselves to strip them of their right to make their own decisions about reproduction. It is paternalistic. It is anything but pro-life, as that ilk calls itself. And it is overreaching by the government by the alleged party of small government.
Not only will stopping Planned Parenthood not stop abortions, it may lead to more.
More than a third of the organization's work is in contraception services, preventing 560,000 unintended pregnancies a year. Eliminating those services will result in thousands of unintended pregnancies, many of which will end in abortions performed elsewhere, perhaps in dangerous and illegal settings and perhaps much later in the pregnancy, when the cost is higher and the procedure more complicated.
Those unintended pregnancies also will result in the birth of thousands of children whose parents do not want them or who cannot properly raise them. Eighty percent of Planned Parenthood's clientele is poor, so the public will pay for prenatal and birthing care and the child's future health care.
Defunding Planned Parenthood also will jeopardize the health of women who go there for breast and cervical cancer screenings and treatment for STDs. Many will find it difficult to navigate care elsewhere and may delay seeking help. When such illnesses are diagnosed at a later stage, prognosis is direr, treatment more expensive and women's suffering more severe.
Meanwhile, the shutdown of the federal government—which the extreme right recently threatened to force the Planned Parenthood issue—would immediately terminate food stamps for 46 million Americans, mostly women and children.
Wow. What remarkably pro-life stances these are.
Women are victimized or shackled in so many ways—in wage-earning, professional pursuits, domestic violence, double standards, objectification, human trafficking, rape and more. They are victimized by the Planned Parenthood fiasco and its aftermath—including the nonstop lies about federal funding and Carly Fiorina's lie about the video containing particularly horrific footage.
One of the few parts of their lives that some can and all should be able to control is reproduction. But the real reason that the extreme right wants to do away with Planned Parenthood is that it empowers women. One can only hope that an attack intended to enfeeble women will instead embolden them.•
__________
Dieter, a writer and an editor, is the former Statehouse bureau chief for The Courier-Journal and press secretary for Gov. Frank O'Bannon. Send comments on this column to ibjedit@ibj.com.

 
Please enable JavaScript to view this content.