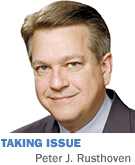 Pope John Paul II's 1998 visit to Cuba distressed its dictatorial regime, the hemispheric leader in brutal denial of political and religious liberty.
A highlight was the mass in Santiago, where Archbishop Pedro Meurice attacked one-party rule and Cuban communists who "confused patriotism with a party." The pope, too, pulled no punches, saying "true freedom" requires "recognition of human rights," that Catholics "have the duty and the right to participate in public debate on the basis of equality," and that Cubans deserved "freedom of expression" and "freedom of association."
"Defending her own freedom," John Paul II said, "the church defends the freedom of each individual, of families, of different social units," all having "a right to their own sphere of autonomy and sovereignty."
Pope Francis' recent Cuban visit brought a different message. On arrival, he asked President Raul Castro to "convey my sentiments of particular respect and consideration to your brother Fidel." He listened approvingly as Raul said religious freedom is "consecrated in Cuba's constitution." Yeah, you bet.
Francis was at pains to avoid giving offense. At one point, he said a "system of universal growth" had prevailed over "the forever-dead system of groups and dynasties." Whatever was meant by this sonorous vacuity—too typical of papal political pronouncements—a Vatican spokesman hastened to say no criticism of the Castros was intended.
Later, security police barred Catholic dissidents from events. The spokesman said he didn't know why these invited guests hadn't attended, but that the Vatican wouldn't protest. All that was planned, you see, was a "passing greeting," simply to show "attention for everyone, including dissidents."
Well. How gracious to include those pesky dissidents, who have lived under the repressive rule of the man to whom Francis volunteered his "sentiments of particular respect." Such sentiments were surely also appreciated by the 1.2 million who have fled Fidel, heading for a country this pope doesn't hesitate to criticize.
To quote one observer, "The pope is spending four days in a country whose communist dictatorship has remained unrelenting in its repression of free speech, political dissent and other human rights. … Yet by the end of his third day, the pope had said or done absolutely nothing that might discomfit his official host."
That's not Fox News. It's the Washington Post.
Pope Francis is frustrating for American Catholic conservatives. We honor his service. We respect his guidance on matters of faith. His warmth, his kindness, his humility are evident. We pray for him.
How sad that his frequent bromides on politics and economics are naive, ill-informed and wrong. George Will is correct: "Pope Francis embodies sanctity but comes trailing clouds of sanctimony," embracing "ideas impeccably fashionable, demonstrably false, and deeply reactionary."
They are reactionary because they harm the poor whom the pope purports to champion. He lauds collectivism, whose results are disastrous everywhere (including his native Argentina, where he came of age under Peron). He disdains capitalism, whose workings he does not grasp—and which has done more to promote freedom, provide opportunity and lift people out of poverty than anything in history.
So Francis finds himself praised (and used) on the left, including by many who despise his church and its teachings. In politics, we sometimes say someone we otherwise doubt at least has "the right enemies." Francis, whom we otherwise admire, is attracting the wrong friends.•
__________
Rusthoven, an Indianapolis attorney and graduate of Harvard College and Harvard Law School, was associate counsel to President Reagan. Send comments on this column to ibjedit@ibj.com.
Please enable JavaScript to view this content.