For the first time in its 25 years of operations, Hamilton County Tourism Inc. didn't put much effort into promoting the area as a spring and summer getaway destination.
It just wasn't necessary. Thousands of out-of-state visitors were already passing through—thanks to Westfield's popular new Grand Park Sports Campus, where crowds gather for softball, baseball and soccer tournaments and camps.

Newman
"That park is taking up all the hotel rooms during a prime time of the year," said Mark Newman, executive director of the Indiana Office of Tourism Development.
So Hamilton County Tourism is in the process of testing a marketing campaign aimed at attracting weekend visitors in the fall months. And it's targeting only one out-of-state area—Chicago—instead of several.
"What's interesting about tourism and marketing is, it's constantly changing every year," said Carrie Lambert, executive director of the Indiana Tourism Association. "Watching that and trying new things is really important for us."

 Radcliff
Karen Radcliff, Hamilton County Tourism's vice president and chief strategy officer, said by limiting promotions to one season instead of two and cutting back on the number of target markets, the agency could afford a wide-reaching plan for Chicago for the first time.
The need for the strategy switch was slightly unexpected, though. The agency had already filmed its first 30-second live-action television commercial promoting the community as a summer 2015 destination.
"We thought we were forward-thinking," Radcliff said.
But tournaments at Grand Park, which opened in spring 2014, quickly filled area hotels' spring and summer weekends this year. Occupancy rates are expected to be at 70 percent, which is considered full. Demand for hotel rooms in Hamilton County is up 2.8 percent, but the number of rooms hasn't kept up.
"All of a sudden, the message was not strategic," Radcliff said. "It's been a staple of what we've done for our hotels for years … I was having a few panic attacks."
So the agency changed direction. And other tourism officials say the change was the right one.
"I think marketing fall in Indiana is one of the easiest things you can do," Newman said, because the state hosts hundreds of fall festivals and events.

Lambert
Lambert said fall has also opened up as a travel season within the past five years because more school districts have introduced longer fall breaks.
"It really provides a great opportunity to target a new audience," she said.
Chicago can be a tough crowd in any season, though: It's more expensive to advertise in, it's expansive and it's already filled with attractions.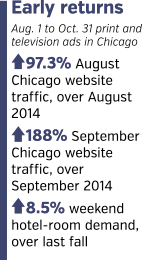 "When you can figure it out and target it, it can reap a lot of benefits," Lambert said. "It's a calculated risk. I can't wait to see how it shakes out" for Hamilton County.
Hamilton County Tourism is using a combination of digital marketing, unconventional promotions, print advertisements and TV commercials to reach Chicago-area residents. The push started Aug. 1, and the TV and print ads will run through the end of this month. The digital marketing will continue through the end of the year, but the message will switch in November to focus on the holidays and shopping.
Radcliff said the agency had been dipping into Chicago for three years. But until now, it couldn't afford a multimedia mix. Usually, resources have been spread out in more affordable cities—including Fort Wayne; Louisville; and Champaign, Illinois.
Newman said even though Hamilton County has narrowed its focus, it could actually be expanding its reach because of the higher number of households in the Chicago area.
Radcliff said the agency typically spends about a half million dollars on spring and summer marketing in multiple cities and this year has budgeted $372,000 for Chicago alone.
"The challenge you face with Chicago is affordability," Newman said. "I think you have to be somewhat creative and resourceful."
Radcliff said magazine ads in Chicago are typically three times as expensive as in Louisville and four times as costly as in Fort Wayne. TV ads can cost two or three times as much to meet the reach and frequency needed to make an impact.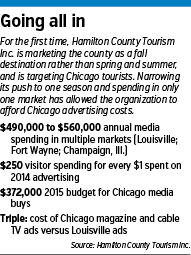 Other than monitoring website traffic data, the tourism agency doesn't know yet how well the Chicago marketing plan is working—and won't know until the end of the season.
But so far, website traffic from Chicago is higher than ever before. In August, Chicago user sessions increased 97.3 percent from last August, and September website traffic from the Windy City was up 188 percent from September 2014.
Weekend hotel-room demand this fall is also up 8.5 percent year-over-year, but Radcliff said it's not clear whether that's a result of the new marketing.
Depending on results, fall promotions and a strong emphasis on Chicago might not be a long-term strategy for the county. Plus, Radcliff noted that several more hotels are in the pipeline, which could open spring and summer up for non-Grand Park visitors again. Within five years, 1,000 more rooms are expected to be added.
"As the inventory of rooms increases … you'll probably see them return to a more broad-based strategy," Newman said. "If they don't have the rooms to sell, it doesn't make sense for them to promote something."•
Please enable JavaScript to view this content.