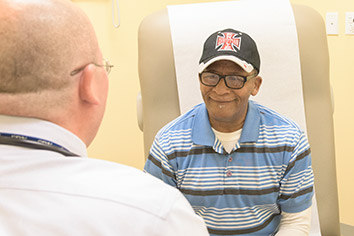 David Johnston's first trip to the Healthy Aging Brain Center at Eskenazi Health ended with this ominous message: He would have Alzheimer's disease within five years.
But just a year later, Johnston received much better news from the same doctor, Malaz Boustani. Not only was Johnston's brain not deteriorating; it appeared to be getting better on psychological evaluations.
"You can actually improve your future," Boustani, perched on a stool in a white lab coat, told Johnston, who sat in orange basketball shorts and a dingy T-shirt on an exam table at Eskenazi Hospital. Johnston, a retired postal worker, has a family history of Alzheimer's, so, Boustani said, "We have to work much, much harder on protecting your brain."

Boustani
Johnston, 66, is one example of how Boustani and the 26-person team he leads at Eskenazi are defying the conventional wisdom about Alzheimer's disease and other kinds of dementia—that there is no effective treatment.
Instead, they have shown that their approach to health care—which uses a team of staff members to regularly check in with patients and keep them on their regimens—can improve the mental health of both dementia patients and their care givers. It could also save billions for the health care system at large.
That rare string of feats, documented in numerous research articles over nearly a decade, is now attracting attention—and lots of money—in hopes that it can be expanded and replicated to transform health care beyond dementia and beyond Indianapolis.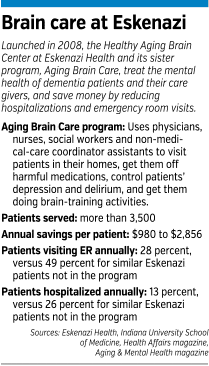 The federal Medicare program last month awarded a $46.4 million grant to the Indiana University School of Medicine to let Boustani, who is also a professor at the medical school, adapt the approach to treat patients with all kinds of diseases throughout the Midwest. Boustani will lead an effort by eight universities to send coaches to medical offices to implement a team-based care model similar to the one used at the Healthy Aging Brain Center.
In addition, the Eskenazi Health Foundation has committed to raise money to keep investing in the center and even to expand it. The center's primary outside funding has been a three-year, $7.8 million grant from the federal Medicare program, but that ended in July.
"Supporting doctors and other health care professionals [to] change the way they work is critical to improving quality and spending our health care dollars more wisely," U.S. Health and Human Services Secretary Sylvia Mathews Burwell said when awarding the $46.4 million grant.
Growing challenge
Just the problem of Alzheimer's is big enough. The disease, which saps patients' memory and can kill them, now afflicts 5 million Americans.
About 100,000 Hoosiers have Alzheimer's disease.
The cost of caring for dementia patients is exorbitant—an estimated $226 billion this year nationwide, according to the Chicago-based Alzheimer's Association.
And the growth rates are alarming. Because Alzheimer's is more prevalent when patients aren't dying of other diseases, and because of the aging baby boomer generation, the Alzheimer's Association predicts the number of people with Alzheimer's will more than double in the next 25 years while the cost to care for them will more than triple.
And that's just the patients doctors know about. Multiple studies have shown that three of four people who have Alzheimer's disease never have it diagnosed. With doctors believing not much can be done for dementia patients, many are reluctant to test for the disease. And patients themselves aren't eager to be diagnosed, for fear of losing such privileges as driving a car or living in their own house.
The huge need among Alzheimer's patients has major pharmaceutical companies pouring billions of dollars into finding a drug that would be the first medication capable of slowing the disease's progression. Indianapolis-based Eli Lilly and Co. has produced the most encouraging late-stage results to date, showing that its experimental drug solanezumab slowed mental decline 34 percent.
Wall Street analysts project the first disease-altering Alzheimer's drug could reap $5 billion to $10 billion in annual sales.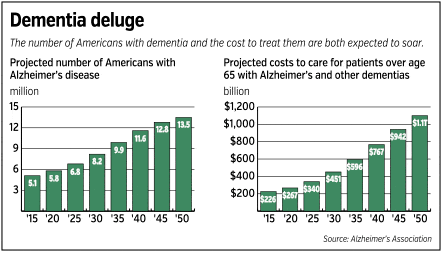 "This is a major public health problem. If unchecked as our population continues to age, what is now a public health problem could become a public health catastrophe," said Dr. Steve Paul, the former head of research at Lilly who became founding director of the Appel Alzheimer's Disease Research Institute at the Weill Cornell Medical College in New York.
Getting results
Boustani, 44, earned his medical degree in his native Syria and moved to the University of North Carolina to do a fellowship in geriatric medicine. He came to Indianapolis in 2002 to work with Dr. Chris Callahan, who had founded the IU Center for Aging Research.
Boustani and Callahan are now two of the six physicians that lead Eskenazi's aging-brain teams.
Both doctors believe approaching Alzheimer's as untreatable is both wrong-headed and needlessly exposes millions of patients to unnecessary harm. They started the Healthy Aging Brain Center in 2008 to demonstrate there was a better way to care for dementia patients.
Since then, the center and a sister program have treated more than 3,500 patients.
Much of that unnecessary harm occurs in hospital emergency rooms. ER staff members usually are not used to dementia patients, who often don't give reliable information, or understand or retain discharge instructions.
"They kill people over there," Boustani bluntly stated during a meeting with the Healthy Aging Brain Center staff earlier this year. He told staffers to do all they can to keep patients out of the ER.
In a study published in 2011 in the medical journal Aging & Mental Health, the Healthy Aging Brain Center showed that it reduced ER visits 47 percent and reduced hospitalizations 50 percent, when comparing the center's patients with other similar Eskenazi Health patients served outside the center.
The other big harm can come from common medications. Benadryl, Dimetapp, Zantac, Imodium, Tylenol PM—all these drugs interfere with a key neurotransmitter in the brain. That can accelerate the decline in mental capacity in seniors—but getting them off these drugs can halt or even reverse those negative effects.
Patients treated at the Healthy Aging Brain Center are half as likely to be taking one of these drugs as those in the rest of the Eskenazi system.
In addition, a 2006 randomized-controlled trial of the team-based dementia care now used at the Healthy Aging Brain Center showed patients receiving team-based care saw their scores on an evaluation of cognition decline half as fast as those receiving standard care.
The Healthy Aging Brain Center, even after accounting for its higher staff costs, has saved $980 to $2,856 per patient per year, according to a 2014 study published in the journal Health Affairs.
If all Alzheimer's patients received this care and achieved such savings, it would save $5 billion to $15 billion annually.
Boustani and his fellow physicians at the center have been frustrated that, years after documenting such impressive outcomes, few other health care systems have followed their lead.
Until recently, hospital systems had little financial incentive to save money on patient care. In addition, only recently have health care systems started organizing their doctors, nurses, pharmacists, social workers and other staff into teams that coordinate their work with patients.
"I still feel really lonely," Boustani said. "But people now are taking notice."
'Someone to talk to'
In contrast to the traditional solo-physician style of medical care, the Healthy Aging Brain Center uses a team so it can address the host of problems—many of them non-medical—that exacerbate dementia.
Each team includes a physician, a nurse, a clinical social worker and a technician who can conduct psychological exams for patients.
Their work includes a family conference with at least one adult care giver. It is not uncommon for the care givers of Alzheimer's patients to be hospitalized or even die before the patient does due to the burden of caring.
In these family conferences, Boustani encourages patients to do something to keep their brains active. He told one woman to take dancing classes. He told an immigrant man to keep learning English as a second language.
Boustani asked Johnston, the retired postal worker, to play the online brain-training game Lumosity.
"We have to keep [you] away from the harmful medicine. And, second, we want to give you instruction to do brain exercises," Boustani said. "So please work on Lumosity."
Johnston, who has been reluctant to spend the $7 a month it requires to join, said the program reminded him of a line from Shakespeare's Hamlet: "Cudgel thy brain."
Eskenazi also has developed a sister program it calls Aging Brain Care, which sends non-medical care-coordinator assistants on regular visits to patients' homes. They administer the program's two key psychological evaluations, one for depression and one for mental cognition.
Depression and dementia often go together, with the former exacerbating the latter.
The care-coordinator assistants typically have just a high school diploma or an associate's degree. But they're hired for their ability to talk to and gain the trust of the patients Eskenazi serves, most of whom are low-income, as well as the patients' families.
"Our main object is to keep the seniors safe in their home as long as possible," said Quinton Moore, a care-coordinator assistant for the Aging Brain Care program. "That's easier said than done."
The in-home visits are crucial to getting a full and accurate list of all medications patients are taking, Moore said—a notoriously thorny problem in health care. It also gives the Eskenazi doctors more accurate readings of patients' day-to-day levels of depression and mental acuity, and helps identify family problems that can be impeding a patient's care.
Analysis by Eskenazi has shown that more than 90 percent of the patients treated by the Healthy Aging Brain Center have at least a partial remission of depression after one year.
The 2006 clinical trial saw patients' levels of depression improve 20 percent over one year, versus 7 percent worse depression levels among patients receiving standard care. The impact on the depression of care givers was similar.
Johnston was first referred to the Healthy Aging Brain Center by his general practitioner because she was worried about his depression. Johnston said he's struggled with depression since his father died 14 years ago. He also has diabetes, high blood pressure and high cholesterol—all conditions that can be harder to treat when a patient has depression and dementia.
Johnston, who lives alone, said the thing about the Healthy Aging Brain Center that made the biggest difference for him was just having someone to talk to.
"The loneliness is difficult," Johnston said. But talking about his appointments with Boustani and the visits he receives from care-coordinator assistants, he said: "It's like a breath of fresh air."•
Please enable JavaScript to view this content.